Published on
Social Media Vital Signs: How Urgent Care Centers Can Connect, Interact and Build Relationships with Patients
Urgent message: Social media such as blogs, Facebook, Twitter, and YouTube can help urgent care operators better understand patients' needs and communicate the value of urgent care medicine―ultimately driving more visits to their centers.
Author: Caroline Ryan and Jan Sisko
Author Information: This article was presented as a white paper at the 2012 Urgent Care Association Conference. Caroline Ryan is Director of Marketing at Orion HealthCorp, Inc., in Atlanta, Georgia. Jan Sisko is Social Media Specialist at Carabiner Communications in Lilburn, Georgia.
Several years ago everyone was talking about social media as a "revolution." The revolution is over. Social media is here to stay as it has quickly become a ubiquitous part of our everyday lives. Eighty-two percent of the world's Internet population over the age of 15 now logs on to a social network.1
The Internet and various social media channels are quickly supplanting the more traditional information instruments, such as telephone directories, as the go-to resources for people needing to find an urgent care center.
One in five Americans use social media websites as a source of healthcare information, according to a National Research Group's Ticker survey. The survey found that 94% of Americans have used Facebook to gather information on healthcare, 32% used YouTube, and 18% used Twitter.2
This shows people want to connect and want to be social when it comes to their healthcare, whether it's sharing content, experiences or opinions. For urgent care providers in particular, this means access to potentially millions of patients on blogs, in social networks, and through video-sharing sites.
In today's hyper-connected world, social media has greatly increased the effect, speed and reach of urgent care centers' digital communications. According to a consumer choice survey from Ad-ology Research, social media played a role in the choice of a facility for nearly 40% of recent hospital or urgent-care center patients, with more than half of 25- to 35-year-olds reporting they were influenced by it.3
Millions of people are using social media. Urgent care centers that want to better engage their target audiences need to seriously consider social media marketing strategies. Why?
It's fairly easy to engage—to have real discussions—with prospective patients, current patients and potential employees on social sites. On Twitter, for example, a site where anyone can publish "micro-blogs" in 140 characters or less, an urgent care center can quickly gain a massive following simply by following users in the community and regularly "tweeting" issues pertaining to local healthcare, news, events and more.
The Internet is often used as the first point of healthcare research for many people. Social media elements found in everyday search engine results are becoming more highly relevant. The more your facility shows up in top-tier search results, the more credible you become.
Social media can cross-complement bigger marketing and branding strategies to help drive awareness, enhance local initiatives, engage audience segments, and disseminate information from multiple sources.
Pre-Launch: Answer Key Questions Before Starting a Campaign
The use of social media will continue to increase in popularity as urgent care operators look for innovative ways to break through the communications clutter and reach patients where they spend their time—online.
The first question to ask before starting a social media campaign should be: "Why do I want to get involved with social media in the first place?" If the answer is "Because my competitors are doing it," you probably should wait until you have more concrete goals.
These goals can include:
Finding new patients;
Following up with current patients;
Building awareness for a center's full range of services;
Getting more involved in the community;
Establishing the center and its staff as local healthcare experts; and
Localizing national urgent care chains.
Implementing a social media strategy requires a commitment over the long haul as word spreads and as audiences begin to engage. Building and maintaining a customized and engaging social media presence requires strong commitment and dedication on a regular basis. Two tweets a month don't produce an effective social media program. Urgent care operators can reasonably expect a single staff member dedicated to social media activities to spend―at the very least―approximately 30 minutes per platform per day. Additional time should also be allocated for creating and drafting engaging blog content. The amount of time needed for these particular activities can vary, often determined by factors such as the writer's ability as well as length, frequency and topic of blog posts.
Urgent care providers should conduct due diligence, choosing and concentrating on the precise social media activities that best align with their business and communications goals. At the onset of a campaign, urgent care operators must realistically assess:
How much time and money can be invested?
What are your goals?
Which social media channels should you use?
Who in the company should participate? Who will take a primary role in leading social media campaigns?
How will you measure success?
Social media may not make sense for every urgent care center. But many providers are finding tremendous success with simple measures that don't require large amounts of marketing dollars. For example, Care Practice, a top-rated urgent care center in San Francisco, is one of the first practices in the country launched almost exclusively through new media platforms such as Facebook, Yelp, and Twitter. Care Practice sums up its decision by saying:
"We felt that we would be far more successful if we could harness this new power of social media as an extension of what people traditionally call word of mouth growth. We believed that one patient putting a message out to their 500 local Facebook friends or on their Yelp site that Care Practice was an amazing and affordable experience was more valuable than any article we could ever get in a local newspaper."
Both independent and nationally branded urgent care operators that effectively execute social marketing campaigns can expect benefits such as:
A boost in site traffic;
More word-of-mouth referrals;
Increased brand awareness; and
Improved brand loyalty.
Before the First Post, Know the Rules for HIPAA-Compliant Social Media
Users should be familiar with HIPAA guidelines before the first comment, post or tweet is made. Everything that an urgent care provider publishes on a social network is in the public domain. Sensitivity and compliance need to be taken very seriously in order to avoid HIPAA violations.
Below are the key steps to establishing a HIPAA-compliant social media program:
Understand that the same rules regarding patient privacy that apply to everything else you do in healthcare also apply to social media activities.
Consult with legal advisors at the onset.
Develop clear policies and procedures.
Train those staff members who have authority to post or comment on the practices and procedures.
Don't practice medicine online, but opt to take conversations offline.
Post HIPAA social media policies and procedures on each of the platforms.
Monitor your social media channels daily.
Opportunity Abounds With a Number of Social Media Tools
This section looks at top social media tools that can be used by urgent care providers to enhance marketing and patient relations. This section will also outline some things you need to know, including how to get more "bang" for your social media buck.

Blogs Provide a Perfect Forum for a Wealth of Content
Blogs are essentially online journals that can be used to influence key audiences. A study conducted by the Pew Internet & American Life Project found that 34 percent of Internet users, or 25% of adults, have read someone else's commentary or experience about health or medical issues on a blog, website or online news group.4
For urgent care centers, benefits of blogging include:
Enhanced credibility and visibility.
Improved website traffic.
Increased patient referrals.
The ability to dually publish your content on other social sites such as Facebook, Twitter, Google+ and LinkedIn.
More media coverage, since reporters like to establish dialog with subject matter experts.
With a blog, attracting readers takes time. Relevant posts are needed regularly for good search engine optimization and to engage repeat readers. In addition, blogs need to be promoted. Here are some other tips to minimize effort and maximize return:
Get the blog architected to share content across all social media channels.
Install an RSS (Really Simple Syndication) feed service so readers can subscribe to your posts and add "share this" widgets that allow one-click sharing via email or a number of social networks.
Make posts interesting. Would you want to read a boring blog post? Postings should address trends―the more local the better―related to urgent care, such as emergency room overcrowding, healthcare accessibility and affordability, prevention of injury or illness. Posts should be compelling to capture attention, but not self-serving. The tone should be conversational and engaging. To enhance search engine results, be sure to optimize posts with key words and phrases.
Drive reader participation by asking questions in posts. Also, reply to readers' comments. This establishes a personal connection and keeps them coming back.
Develop an editorial calendar. Blogging daily is hard. A Monday-Wednesday-Friday schedule is a good place to start, just make it consistent from week to week. Possibly look at one trend-related post/week and then one time per week for brief commentary in relationship to local healthcare news, a brief Q&A with a staff member, video or other fun brief posting. (Posting on the same days with the same type of content each week).
Read other blogs and link to them. Add a "blogroll," or list of relevant blogs in the sidebar of your site. Adding a blogroll—and requesting the same from other bloggers—is another way to grow readership. Other blogs also provide you with content fodder. Having more links on your blog will also improve search engine optimization.
To gain readership, blogs must be cross promoted. Your website home page, e-mail signatures, other social media channels, marketing collateral, and press releases should all include links to your blog.

Facebook Still Rules the Social Media Universe
Facebook is still king when it comes to social media channels:
Facebook has 845 million registered users.5
The average Facebooker has 130 friends and likes 80 pages.6
Users average 15.5 minutes per day on Facebook.7
56% of consumers say they are more likely to recommend a brand after becoming a fan.8
Facebook's nearly one billion users keep coming back because they love networking with family, friends, and yes, brands. However, you can't just use Facebook as a forum for pushing urgent care services without having a conversation first. Connect with your fans, but treat them as people, not revenue numbers. Sharing fresh, relevant content on an ongoing basis and giving Facebook users reasons to engage with that content is vital.
Your Facebook community should be a public extension of target audiences (patients, prospects, community leaders, etc.)―and their interaction on Facebook could be leveraged as a way to recruit likeminded people to join the network. Posts should be made to drive current urgent care discussions on this network, such as compliments on good healthcare initiatives, questions on new services, videos to recruit interest in using urgent care facilities, reviews of your own center, etc. You could also plan, of course, to post links to new blog posts, links to influencer discussions and your opinion on whatever is being discussed (that is, an influencer's blog post).
Here are other tips for getting the most out of Facebook:
Create a fan page for Facebook versus a group or a personal profile/account. Get the page designed, content uploaded, and integrated to share across all social media channels. Tailor the page to reflect your brand instead of the generic appearance of a Facebook fan page that doesn't have branded graphics. Business information for the urgent care center should include its location, operations, and services offered― complete with pictures and links to the center's website, blog, reviews, etc.
Take advantage of new timeline back-dating capabilities that allow you to include company milestones such as founding year, milestone patients serviced, service introductions, expansions, philanthropic efforts, and other key events.
At a minimum, plan for one daily posting. It's optimal to post several times in a set 24-hour period (both during and after 9-to-5 business hours). Develop a schedule and a list of topics to get the conversation started. Provide responses to user comments posted to pages within a few hours.
Establish an ongoing monitoring program whereby someone consistently checks the page for direct messages (that is, Facebook updates) and for comments―and can handle replies quickly. Someone should be "on call" even on weekends and holidays.
Utilize contests, surveys and donation campaigns on a quarterly basis in order to keep fans incented and engaged. For example, "For every fan we obtain in X-period, we will donate $X amount to help the less-fortunate pay for much-needed medical tests."
Raise your visibility by becoming a fan of other organizations, for example the Urgent Care Association (UCA) and Centers for Disease Control and Prevention (CDC) or in your community, the local chamber of commerce or City of X.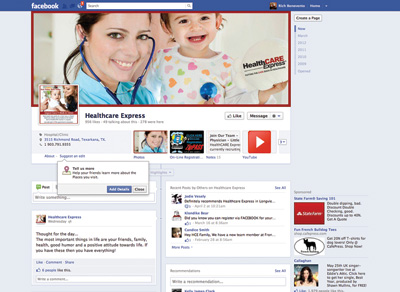 Don't forget to cross promote by adding the Facebook icon to your center's website as well as other appropriate marketing channels.

Twitter Delivers Real-Time Information Bursts
There are 100 million active Twitter users, 50% who log in at least once a day―a sizeable portion of those will use the service at least in part to follow brands.9
Urgent care marketers are increasingly turning to Twitter as a more cost-effective means to quickly establish dialogues with patients, prospects, and other influencers. The brief, 140-character text updates―which can include links to news stories and multimedia such as audio and video―are more real-time in nature and have garnered quite a large mobile following as 55% of users now access the platform via their handheld devices.10
Twitter is different than Facebook in that it's acceptable to have pages set up and branded for the urgent care center itself or through individual professionals, for example staff physicians. Regardless, all users should conduct themselves as an organization (commenting as a brand or on behalf of it).
Twitter is all about the conversations. Followers tend to prefer a direct, genuine and, of course, genial tone, so think about your voice as you Tweet.
Here are some tips, from a marketing standpoint, for boosting your success with Twitter:
Follow the Twitter feeds of your key influencers. Be selective in who you follow. Concentrate on key influencers, such as healthcare organizations, media outlets, health bloggers, etc.
Tweet on a regular basis to keep followers interested, planning for a minimum of several tweets per day. Retweet relevant information in a timely fashion. Don't just communicate news about yourself or your urgent care center. Listen to what others are writing about and take part in their conversations. For example, if you made a comment on another healthcare blog, post your thoughts on Twitter with a link to the blog.
Follow trends and headlines by tapping into popular conversation threads. Hashtags start with the "#" symbol and a keyword for discussion, such as #urgentcare or #MDchat.
And, we can't say this enough: Don't forget to cross-promote your Twitter address by including it in your e-mail signature and in any online profiles. Also, include Twitter icons on your website as well as your blog.

Video and Other Rich Content Energize Social Media
Going beyond text-only communications has rapidly grown in importance. Savvy consumers are becoming accustomed to getting their information both on-demand and in the format they want. In the future, urgent care providers that only "speak" to their audiences via text will find themselves at a major disadvantage.
Video, for instance, offers a way to deliver an informative and appealing presentation about your urgent care center or services. Statistics released in February by ComScore, Inc., a leader in measuring the digital world, show that 179 million U.S. Internet users watched nearly 38 billion videos online.11 Twenty-five percent of them, or 19% of adults, have watched an online video specifically about health or medical issues.12
Video can be integrated into blogs posts, press releases and e-newsletters, linked in Tweets, and posted on Facebook. In addition, posting videos on sites such as YouTube—or distributing the content through services such as Hey!Spread—can help create a viral viewing effect. In other words, the creation of a single video offers multiple usage and distribution opportunities.
The time investment with a YouTube account on a daily basis is minimal, mostly involving the response to comments. The time and resource investment comes from developing the necessary video content.
Urgent care operators should first develop a realistic video strategy that includes ideas, topics and budgets for content. Maybe content includes placing an existing television ad online, creating a custom video showcasing the facilities, recording a staff member speaking on a newsworthy topic, or repurposing a media clip from a local television interview.
Other forms of multimedia content that can be used on social media channels include:
Podcasts, or audio files.
Photos, which can be distributed through sites such as Flickr.
Slidecasts, which are PowerPoint-style presentations with slides synced to audio.
Interactive healthcare calculators, which can be used as powerful viral marketing tools.
No matter what type of content you choose to develop, it should always represent your brand in a professional manner.
Consider These Other Useful Social Media Tools
Here are four more tools worth exploring:
LinkedIn is the world's largest online business social network and is used almost exclusively for B2B purposes. However, with more than 30 million users, LinkedIn offers an additional channel of influence by extending your network for recruiting and enhancing visibility through discussions/forums related to urgent care/healthcare issues.
Google+ is one of the newest online networks, offering a collection of different social products. Features include Stream (a newsfeed); Sparks (a recommendation engine); Hangouts (a video chat service); Huddle (a group texting service), and Circles (a friend management service). Content is visually driven, and circles are its cornerstone. You "+1" (or endorse) content to share it.
Pinterest is a virtual pinboard and the latest social media upstart. It allows people to organize and share visual content. To use, urgent care operators could post photos of their centers to set expectations of the quality of the experience before a patient arrives.
Business review sites such as Yelp!, CitySearch and Angie's List are fast becoming credible and trusted places for past and current patients' opinions. Today's healthcare consumers who do their research are much more interested in what others like them have to say―more so than what you have to say about your business.
Determine How You Want to Move the Needle
A question any urgent care provider is going to ask is "How do I measure my return on investment?" As social media marketing is still relatively new and dynamic, methods for assessing ROI are still evolving. But there are ways to get a handle on how your campaign is giving back.
You must first determine what you want to measure. From a qualitative perspective, is it reputation, conversations or patient relationships? From more of a quantitative approach, maybe you want to measure an increase in appointments or web traffic. There are a number of online tools that deliver social media measurement in real time. For example, search engines such as Ice Rocket will deliver the mentions, but doesn't offer the sentiment. Tools such as Social Mention offer sentiment, measured according to what the tool itself automatically assesses based on its own rules to be positive/negative/neutral.
Using tools such as Google Analytics can help you learn more about where your online visitors come from and how they interact with your site. If you operate a blog, WordPress and other platforms offer easy-to-use services that indicate how many unique visitors come to your site, where they are directed from, and what keywords they type in search engines to find you. Another satisfying way to measure how your blog is engaging readers is to monitor reader comments.
It's important to determine what exact social media activities generate the highest return, so you can further leverage activities on these platforms and increase interaction with influencers who produce the most referrals or drive the most web visitors (or other metric).
Take the Next Steps to Elevate Your Social Media Presence
Once you have clearly defined your social media objectives, there are other steps that can put you on the right footing for success:
Gain internal support from the top down. Social media must be embraced at all levels of your orga¬nization. This is important for approving an ongoing budget and to ensure long-term sustainability of social media programs. In addition, executive participation is often a key requirement for many social media activities.
View social media participation as an extension of your brand. Many of the same considerations given to content on your website should be extended to content you publish via social media chan¬nels. For instance, search engine optimization utilized on your main website copy should be similarly applied to your blog posts, Twitter profiles, Facebook posts, etc. Also, remember that online content—regardless of its location—is representative of your company brand.
Know your audience. Before deciding on a specific social media program, learn about what types of social media sites your target audiences already frequent, or what social media tools they use.
Become an active contributor. Social media engagement is based on user-generated content and regular communication with audiences. Establishing schedules for publishing or producing content can help you stay consistent.
Enlist assistance as needed. External help is available to support a range of social media initiatives, from strategic planning and consulting to professional content production. Many PR and marketing agencies offer social media expertise. Urgent care providers new to social media may require the assistance of these resources to strategically plan and execute initiatives.
Create an honest, welcome dialog. Time and again, successful adopters use social media to estab¬lish a two-way exchange of information and perspectives. Avoid the temptation to use social media as an advertising channel, and work to ensure your communications are never considered spam. Social media must be thought of as a shift from autocratic thinking and one-to-many communications to a participatory environment.
Social media is not about selling and talking at your audience. It's about connecting, interacting and building relationships with them.
The fact that more than half of patients (57%) would pick a hospital based on its social media presence and even more consumers (81%) see hospitals visible in social media as more cutting edge , indicates that social media is where the future of urgent care marketing is headed.
Check your social media vital signs today and start a new marketing regimen that can give your urgent care center a tremendous competitive advantage.
References
Pulse Point Group and The Economist Intelligence Unit, "New Study: 'Socially Engaged' Companies See 4X Greater Business Impact," Press Release, Mar. 26, 2012.
"Social Networking Is the Most Popular Online Activity," Social Networking Watch, Dec. 28, 2011.
National Research Group, "1 in 5 Americans Use Social Media for Health Care Information," Press Release, Feb. 28, 2011.
Ad-ology Research, Spring 2009 Ad-ology Media Influence on Consumer Choice Survey, April 2009.
Fox, Susannah, "The Social Life of Health Information 2011," Pew Internet & American Life Project, May 12, 2011.
Gans, Joshua, "How Many Customers Does Facebook Have?," Digitopoly Blog, Feb. 7, 2012.
"Infographic: Social Media Statistics for 2012," Digital Buzz Blog, Jan. 3, 2012.
Parr, Ben, "You Spend 8 Hours Per Month on Facebook," Mashable, Sept. 30, 2011.
"Infographic: Social Media Statistics for 2012," op.cit.
Ibid.
Ibid.
comScore, Inc., "comScore Releases February 2012 U.S. Online Video Rankings," Press Release, Mar. 16, 2012.
Fox, Susannah, op.cit.
"New Survey: Patients Choose Hospitals Because of Social Media Presence," Health Practice Media, June 29, 2011.
Social Media Vital Signs: How Urgent Care Centers Can Connect, Interact and Build Relationships with Patients