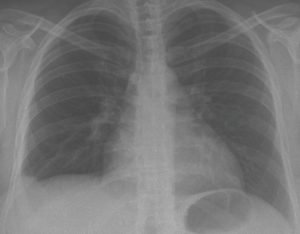 A 36-year-old obese woman presents with upper right back pain 10 days after a normal child birth. Pain is worse on coughing. Otherwise, she is fit and well.
No shortness of breath
Normal oxygen saturation
Patient is afebrile
Auscultation: Reduced breathing sounds in right base, fine crackles on right
View Figure 1, take these findings into account, and consider what your next steps would be. Resolution of the case is described on the next page.