URGENT MESSAGE: As urgent care developers seek prime real estate for their medical centers, bank branches that have been vacated due to mergers may provide a high-traffic, high-visibility solution, although there are practical challenges with converting a former bank branch to an urgent care center.
Alan A. Ayers, MBA, MAcc is Practice Management Editor of JUCM—The Journal of Urgent Care Medicine, a member of the Board of Directors of the Urgent Care Association of America, and Vice President of Strategic Initiatives for Practice Velocity.
Over the last few years, the rapid rise in the number of urgent care centers has been driven by consumer preference for the convenience of seeing a physician on their own schedule, without an appointment, at a location that's convenient to their homes and/or offices. Convenience is only the tip of the iceberg, though, as the shortage of primary care physicians has left approximately one in five Americans without a "medical home" to address their basic health needs.(1) And as government and private payers grapple with strained emergency department capacity and the rising total healthcare costs of an aging and increasingly ill population, urgent care has been embraced as an alternative care setting that improves access and contains costs.(2)
Thus, urgent care centers promise steady growth and predictable margins, also making them an attractive prospect for private investment from all sectors: private equity, angel investors, health insurers, and health systems. Based on the growth of independent operators with five or more urgent care centers in recent years, market analysts indicate that the timing is right for even more expansion.
Meanwhile, in 2007, the banking industry saw nearly 12,000 branches shut down across the U.S.(3) Many of the branches that closed were either in lower income urban areas or in low-density rural areas where access to an alternative nearby physical banking location was limited. Adding to the difficulty of closing a branch in a rural area was the fact that the next closest branch may be many miles away and the availability of high-speed Internet or a strong cellular signal could negatively impact the conversion to online and mobile banking alternatives. Finally, selling an existing bank branch can be more difficult in a rural market, especially in areas where the commercial real estate market is very likely already depressed.(4)
Real estate brokers, developers, and investors soon realized that a closed bank building could be converted into almost any kind of business, and proceeded with marketing plans for the potential "repurposing" of the vacant buildings. Still, the perception of advantages and disadvantages of repurposing bank branches as urgent care centers depends on each stakeholder's role in the community.
Advantages
Residents and community leaders may be more inclined to only see the advantages of having access to additional healthcare providers and employers may look at the potential for reducing absenteeism or worker's compensation costs, while investors or building owners might be more focused on the capital costs of repurposing the bank branch.
Banks have traditionally been built on street corners in busy retail districts. Proximity to these locations almost certainly ensures that healthcare consumers will have easy access to the clinic, and that public transportation will be available for those without reliable transportation of their own. These high-visibility, high-traffic locations provide a marketing advantage for the urgent care center, as the location's signage is a constant reminder to commuters that the center is available to meet their healthcare needs. In addition, the bank's street corner real estate will usually have plenty of parking spaces with good lighting and traffic lights, ensuring that entering and leaving the parking areas is relatively uncomplicated.
The fact is that every stakeholder in the community should recognize the advantages of converting a closed bank to an urgent care center, beyond those associated with delivery of healthcare. When one business closes, it often signals—or even accelerates—further economic deterioration in an area.(5) Consumers are more likely to shop in business districts with high occupancy rates, and when these rates begin to decline, there is a domino effect that results in a general local economic decline.
Even if the local economic conditions are good, the loss of a single tenant in a business district exposes every business around it to a potential cascade of ill economic outcomes. Real estate brokers, developers, investors, and business owners should understand that repurposing a closed bank branch improves the image of the community, making it more attractive to new businesses and industries. Of course, if a rural or urban area has insufficient population density or incorrect demographics to support a bank branch, it's also logical that the area would be unlikely to support an urgent care center. So most opportunities to turn a bank branch into an urgent care will still be in the high-density, affluent suburbs of major cities.
Figure 1 illustrates the potential for a positive conversion experience.
Disadvantages
The disadvantages to owner/operators and investors in repurposing a bank branch as an urgent care center include the cost of extensive remodeling necessary for efficient and patient-friendly operation of the center. The square footage of a bank branch is typically less than the space required for an urgent care center, and many modifications may be necessary to transform the space to a practical urgent care flow.
As Figure 2 illustrates, areas that were once used as the drive-up teller windows and the large space usually allotted to the vault and ATM require considerable reconfiguration. The majority of bank buildings have a great number of large windows, creating an open view to the interior of the facility for security/safety purposes. Traditionally, banks were also built with high ceilings and skylights, and that design would make building exterior walls and updating lighting fixtures necessary, particularly to assure privacy in patient exam rooms.
The high rent of bank branches could potentially be the biggest disadvantage that must be considered. High-traffic, high-visibility locations can be great for raising awareness and driving patient volume into the urgent care, but if retail rents are higher than what the economics of the urgent care center can support in terms of available patient visits, the location may be economically impractical.
Figure 1. Illustration of a Successful Conversion
In the northern suburbs of Dallas, Star Medical Family, Occupational and Urgent Care converted a former branch of Washington Mutual to a walk-in medical facility. (Washington Mutual declared bankruptcy in September 2008 and its assets were acquired and consolidated into JPMorgan Chase, which had a branch located just down the street, making the former Washington Mutual location redundant).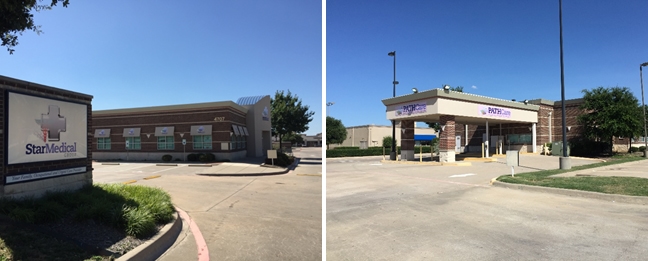 Figure 2. Illustrations of a More Challenging Conversion
In September 2014, North Carolina-based Branch Banking & Trust (BB&T) acquired 41 Texas branches of Citibank. Due to redundancy in the two banks' footprints, BB&T shuttered some Citibank branches, such as this one in Las Colinas.(6) In some cases of bank consolidation, smaller community banks backfill the space; sometimes, however, developers seek new uses—including urgent care.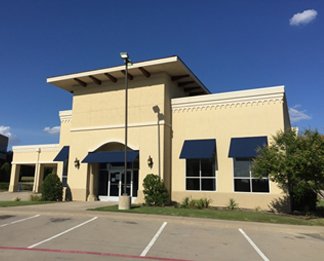 As illustrated, bank branches are often in great retail locations on highly visible on street corners, with an average of approximately 3,500 square feet that can be the ideal size for an urgent care center. Since banks tend to be stand-alone buildings at high-visibility intersections, however, they can be expensive space for urgent care vs an in-line strip.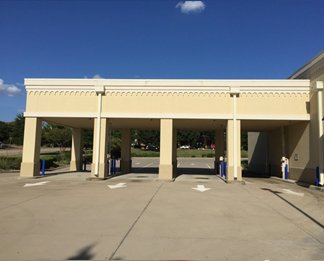 While a bank drive-through could be converted to add a few hundred square feet for an x-ray suite or other clinical space, it can also be an awkward appendage that requires a high cost to remediate. Sometimes the covered space is used for employee parking, but unless it is removed or built-out, the impression will always be "this used to be a bank."
In bank branches, the focal point is typically the teller counter, creating a "square" floorplan that can be difficult to configure to fit an urgent care flow. The presence of individual offices and conference rooms can also increase the cost of demolition vs a conventional "warm shell" in a strip shopping center.
Other common issues with bank branches include large vestibules for the ATM, and large windows and/or high ceilings with skylights which can be difficult to configure into exam rooms (ie, creating issues with patient privacy), and last, the presence of a vault, which can be costly to demise.
References
1. National Association of Community Health Centers. Access denied: a look at America's medically disenfranchised. 2007. Available at: www.nachc.org/client/documents/research/Access_Denied42407.pdf. Accessed March 22, 2016.
2. Yee T, Lechner AE, Boukus ER. The surge in urgent care centers: emergency department alternative or costly convenience? Health System Change. 2013. Available at: http://www.hschange.com/CONTENT/1366/?words=boukus. Accessed March 22, 2016.
3. Karman C. From cache to cachet: landlords repurpose classic bank vaults. The Wall Street Journal. 2012. Available at: http://www.wsj.com/articles/SB10001424127887323316804578161034059171210. Accessed March 22, 2016.
4. Marous J. (2014). Banks can't close braches fast enough. The Financial Brand. Retrieved from http://thefinancialbrand.com/36981/bank-branch-closing-trends/ Accessed July 25, 2015.
5. Pavlus J. How malls die—and how your business could be next. Kellogg Insight. 2014. Available at: http://insight.kellogg.northwestern.edu/article/how-malls-die-and-how-your-business-could-be-next. Accessed March 22, 2016.
6. Cho H. BB&T acquires another 41 branches from Citibank. Dallas Morning News. 2015, Available at: http://www.dallasnews.com/business/headlines/20140903-bbt-acquires-another-41-branches-in-texas-from-citibank.ece. Accessed March 22, 2016.
Real Estate Trends: Repurposing Bank Branches as Urgent Care Centers