Urgent message: Just as urgent care has changed consumer attitudes and behaviors related to on-demand healthcare, One Medical is reinventing the primary care practice by emphasizing high-tech engagement, on-demand convenience, quality provider face time, and price transparency.
If the rise of urgent care were a television drama, then primary care might be one of the villains. Unable to get an appointment in a timely manner—in some markets waiting weeks or months—and having to miss work or school to show up for an appointment at a time convenient for the doctor, consumers have turned to the walk-in, unscheduled convenience of urgent care as their provider of first choice. But it wasn't just consumers who were dissatisfied with the primary care status quo. Tom X. Lee, MD, a Harvard-affiliated general internist turned entrepreneur, was also disillusioned with what he felt was a widening chasm between the highest ideals of the doctor-patient relationship, and what was actually being practiced. So in 2005, with the successful launch of the groundbreaking medical app Epocrates already under his belt, Lee founded One Medical Group.
One Medical Group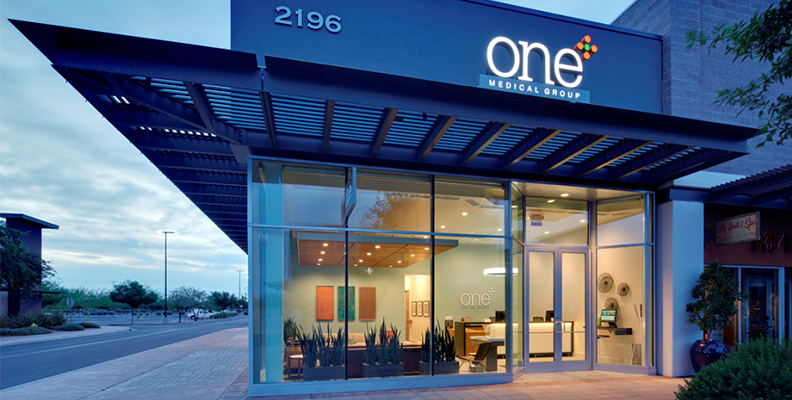 One Medical began as a tiny, San Francisco-based solo practice; with the aid of $117 million in private venture funding from firms such as BenchMark and Maverick Capital, today it's grown into a 40-office medical group with more than 150 doctors and locations across San Francisco, as well as Los Angeles, Phoenix, Boston, Chicago, Washington, and New York. Its mission statement is simple: re-engineer the doctor's office to be more patient-centered by bringing affordable, concierge-style medicine to the masses. Whereas traditional concierge medicine—also called retainer medicine due to its membership fee-based model—is primarily the domain of the affluent and wealthy, One Medical aims deliver a similar, personalized primary care model to a much broader patient base through an affordable, $199 annual membership fee—substantially lower than some concierge practices, which can charge annual dues as high as $5,000. This relatively low-priced yearly fee is separate from the standard medical visit fees, however, and allows One Medical to provide a number of extras not covered by standard health insurance.
At the heart of One Medical's primary care model, and concierge medicine in general, is lower patient loads. One Medical providers—well-vetted, board-certified MDs, DOs, NPs, RNs and PAs—treat at most 16 patients a day, which stands in stark contrast to the 25-plus patients a typical primary care provider sees on average, according to healthcare studies. This 35% smaller average patient load naturally results in providers that are less harried, and able to spend the necessary time to fully listen to patient concerns towards both an accurate medical profile and a personalized treatment plan. Additionally, One Medical offers many of the "on-demand" and "patient-centric" features generally associated with urgent care, including:
Same-day appointments – Same-day appointments with One Medical providers are routine, and a dramatic departure from the lengthy appointment waits synonymous with standard primary care practices. And in rare cases where patients can't book a same-day appointment, next day appointments are guaranteed.
Brief to no waiting – One Medical promises that 95% of prescheduled appointments will start on time, or early. Further, walk-in patients aren't subject to the usual excessive delays in seeing a provider.
Extended evening and weekend hours – In another notable departure from typical primary care, select One Medical locations offer extended evening and weekend hours, much like those offered at urgent care facilities.
On-site labs – One medical also offers no appointment, walk-in labs.
Patient hospitality – Day spa-like waiting areas that sport the look and feel of a boutique hotel lobby are the norm with One Medical. The standard waiting area amenities such as Wi-Fi, flat screen TV, etc. are all present, without the typical sneezing patrons and ringing phones, which have been relegated to a back office.
Patient-centric amenities such as these are virtually unheard of in standard primary care, and stand among One Medical's key differentiators. In fact, these added conveniences are a critical component of One Medical's stated mission of completely redefining what the doctor's office experience should look like.
 
Digital Healthcare Services
One Medical's official tagline is, "Patient-Centered Primary Care, Powered by Technology." As such, telemedicine has played a huge role in Dr. Lee's vision for a better primary care experience, and is integrated throughout the practice model in some of the following ways:
Virtual Medical Team 24/7. Through phone, mobile app, website, or email, One Medical's virtual care team provides immediate answers to patient questions and provides after-hours care, at any time of day or night.
Mobile app. The One Medical "Treat me now" mobile app allows patients to:

Self-schedule medical appointments
Coordinate virtual treatment for minor conditions such as allergies, rashes, and UTIs
Get prescription renewals without an actual office visit
Review and receive interpretation of digital lab results
Pay medical bills online
View a personal health summary

Ask simple medical questions and get quick answers from a medical provider anytime. In fact, lengthy provider-patient email exchanges concerning care instructions, dosage adjustments, and vitals monitoring are not uncommon, recalling a standard perk of concierge practices.
 
What's Covered
Despite its novel and innovative approach, One Medical is indeed a primary care practice that provides the following basic medical services:
Physical exams
Sports medicine
Men's health
Preventive health
Digestive disorders
Asthma and allergies
Cardiovascular disease
Diabetes and hypertension
Immune system health
Anxiety, depression, and insomnia
Stress management
Ancillary services include:
Wellness-based care. One Medical's care approach is based on wellness (as opposed to sickness) and places a strong emphasis on health, nutrition, and lifestyle changes towards managing, preventing, and reversing chronic diseases such as cardiovascular disease, hypertension, and diabetes.
Specialist care. Should a patient need to see a specialist outside the practice, One Medical can provide fast referrals to a network of top specialists. One Medical also partners with area hospital systems.
Integrative health. One Medical offers additional health services at select locations, including mental health, acupuncture, naturopathy, and nutrition counseling.
 
Health Insurance
In an effort to provide affordable care, One Medical accepts most health plans, including Medicare, from the majority of insurance carriers. Many concierge medical practices do not accept insurance. One Medical bills a patient's insurance provider each visit, while the patient takes care of the copay or deductible, just like a regular doctor's office visit. California ACA recipients are eligible, as well, as One Medical participates in the Anthem Blue Cross EPO and Blue Shield of California PPO ACA/Exchange plans. One Medical does not currently accept off-exchange or mirrored plans. Members also have full access to any One Medical office in any city nationwide.
For self-pay individuals, there's a simple fee structure in place that's both flat and transparent: $175 for an initial doctor's visit, and $125 for subsequent visits. One Medical accepts checks or debit and credit cards for payment.
 
Employee Health Benefit Program
One Medical also sells memberships to employers, who can then offer the One Medical concierge health experience as part of their benefits package. It serves as a valuable perk for companies who want to attract and retain premium talent, and a great way to promote enhanced health and well-being throughout their workforce. So far, One Medical has signed up over 100 enterprise employers, including Doximity, NBC Universal, Adobe, FitBit, Uber, Sequoia Benefits, and On Deck Capital.
Additionally, for employers desiring an on-site health presence, One Medical offers services such as on-site flu clinics, health consultations, and biometric screenings. Employees enrolled with One Medical also get nationwide access to all office locations, as well as free, unlimited access to the Virtual Medical Team 24/7.
Company Philosophy


According to Dr. Lee, the primary aim of One Medical is to set a nationwide example for primary care practices everywhere. To that end, the overarching company theme is touted as "Doctor visits when you need them, virtual care when you don't." Lee also notes that One Medical, through its liberal use of technology and innovative practice design, has managed to reduce the number of support staffers per physician from four, which is typical, to two. This streamlined and "smart" approach to staffing purportedly reduces labor costs by one-third— savings that can be passed along to members in the form of lower fees and dues.
The model has been successful so far, albeit with the support of investor backing, to the tune of a 50% annual growth rate. But skeptics remain. Some experts in the medical industry express doubt about whether such a low-cost concierge model can continue to flourish without steady infusions of investor capital. Others question whether such a model can scale successfully, especially if it begins taking on large numbers of, say, elderly patients with myriad health issues.  Lee has heard these naysayers, but expresses confidence that One Medical's meticulous practice design, with its inherent lower cost structure and reduced overhead by virtue of technology integration, can handle any increase in load. It remains to be seen how the company would fare with large-scale, nationwide implementation.
 
Conclusion
One Medical differs from urgent care primarily in that the UC model thrives on higher patient volumes, while concierge-style primary care seeks to reduce them, at least on a per-provider basis. Yet both models posit on-demand care as their company ethos, and espouse heavily patient-centric practice models. And of course, there is the concierge-style membership fee that One Medical charges in support of their many perks and amenities.
So, what can urgent care take from the One Medical model? In the absence of millions in investor capital at the ready, a definitive push towards exploring viable telemedicine service offerings is a reasonable start. Already a $1 billion market projected to increase six-fold by 2020, telemedicine, due mainly to lower-cost video hosting, available bandwidth, and a proliferation of video-capable devices, is gaining popularity rapidly across many healthcare platforms. For the enterprising urgent care operator, telemedicine services can not only provide brand differentiation by positioning the practice as an early adopter, but a valuable additional revenue stream as well. To wit: Healthcare providers of every stripe are already using health IT tools like mobile apps to facilitate off-site prescription refills, mobile self-scheduling, and video consultations for which consumers are more than happy to pay $35-$50.
With millions of newly insured continuing to flood the healthcare market, the need for telemedicine keeps growing. And as patient hospitality and technology integration stand as bona fide movements across today's healthcare landscape, undertaking an earnest exploration of telemedicine is a wise and practical choice for the urgent care operator who hasn't already done so.
Alan A. Ayers, MBA, MAcc is Vice President of Strategic Initiatives for Practice Velocity, LLC and is Practice Management Editor of JUCM—The Journal of Urgent Care Medicine.
One Medical: Reimaging Primary Care Around the Consumer