Published on
URGENT MESSAGE: Public attitudes on the use of marijuana have undergone a sea change over the last two decades, with laws regarding the use of marijuana for medical purposes and in limited cases the recreational use of the drug becoming more liberal. Legalized cannibis presents unique challenges that could impact urgent care and occupational medicine providers when it comes to delivery of patient care and human resources considerations.
Alan A. Ayers, MBA, MAcc is Vice President of Strategic Initiatives for Practice Velocity, LLC and Practice Management Editor of JUCM—The Journal of Urgent Care Medicine.
State laws have become more tolerant toward personal marijuana use in recent years, with medical marijuana being legalized in some states under the guise of it being a legitimate treatment modality. Further, both medical and recreational use of marijuana has been authorized in a handful of states, with Alaska, Colorado, Washington, Oregon, and the District of Columbia passing comprehensive decriminalization measures.
A tipping effect began nationwide in 1996, when California voters endorsed the use of medical marijuana. Since then, 24 states, the District of Columbia, and Guam have allowed for comprehensive public medical marijuana and cannabis programs.(1) Even more significant, a majority of these measures have passed in several socially conservative states. Suffice to say at some point nearly every state in the union has had some pending legislative activity on a medical marijuana issue (see Table 1).
Recent elections have witnessed significant activity on the medical marijuana front, with various measures receiving legislative consideration in many states. In 2015, voters in Ohio and Florida rejected ballot measures to legalize medical marijuana, just as similar measures have failed in Iowa, Alabama, Florida, Georgia, Indiana, Kansas, Kentucky, Mississippi, Missouri Nebraska, North Carolina, North Dakota, South Carolina, Tennessee, Texas, Utah, and West Virginia.(2) By contrast, in 2015 Pennsylvania's legislature approved marijuana's use for medical purposes. Later this year, Nevada voters will decide whether they'd like to see marijuana legalized and regulated in a manner similar to how alcohol is controlled today.
In addition to removing state criminal sanctions for marijuana's medicinal use, medical marijuana laws define eligibility and specify means of access. Except in Maryland and Washington, states issue ID cards to patients who provide recommendations from their doctor to a state or county agency. All of these laws, except in California and Massachusetts, require physician certification that the patient has a serious medical condition or symptom listed in the law (eg, cancer, multiple sclerosis, AIDS, chronic pain, severe nausea). Some states allow patients to cultivate their own medical marijuana while others license and regulate retail "dispensaries." In addition to protecting patients from criminal prosecution, all of these state laws protect physicians who make the recommendations, and all but Maryland allow designated caregivers to assist one or more patients.
Despite the growing liberalization of state policies on medicinal use, marijuana is still classified as a Schedule I substance under the Controlled Substances Act. In October of 2009, the Obama administration sent a memo to federal prosecutors encouraging them not to prosecute people who distribute marijuana for medical purposes in accordance with state law. Further, in August 2013, the U.S. Department of Justice clarified its marijuana enforcement policy, stating in a memorandum that that while marijuana remains illegal under federal law, the USDOJ expects states to create "strong, state-based enforcement efforts…and will defer the right to challenge their legalization laws at this time."(3) Since then, the Obama administration has signaled that it is amenable to continued medical research on the topic: In June 2015, it removed the Public Health Service (PHS) Review barrier to medical marijuana research, effectively moving away from its opposition to medical marijuana and facilitating legitimate and necessary research on the substance. The White House still maintains steadfast opposition to the legalization of marijuana for nonmedical use "because legalization would increase the availability and use of illicit drugs, and pose significant health and safety risks to all Americans, particularly young people."(4)
Impact on Urgent Care Centers
Urgent care centers operating in states that have passed measures liberalizing medical marijuana policy, and those in states that could be expected to pass reforms in the future, will likely have a number of questions—particularly as to what the laws entail and their implications for urgent care practice.
Feedback from providers in states like Colorado and California indicate that medical marijuana has minimal, if any, effect on the day-to-day operations of urgent care centers if for no other reason than medical marijuana's primary clinical applications (eg, in chronic and long-term conditions such as fibromyalgia, glaucoma, and gastrointestinal disease) do not track with treating episodic injuries and illnesses including colds, flu, sinus infections, lacerations, sprains, and fractures. Thus, an urgent care center is not the appropriate setting to manage conditions approved for medical marijuana; patients with these conditions are better referred to a primary care physician or specialist.
Because recreational use of marijuana remains illegal under federal law, there is conflict between state and federal law for insurance companies, provider entities, and individual doctors in legal medical marijuana states. Physicians contracted with major health plans in these states are for the most part barred from recommending marijuana to patients. In order to keep their in-network insurance contracts, many urgent care centers adopt a policy of refusing to recommend individuals marijuana for medicinal use.
In states where legislation has passed, the medical marijuana community has its own physicans who are known as "advocates" and who make a business out of recommending patients for medical marijuana .


Those seeking medical marijuana "prescriptions" will likely turn to these physicians rather than seek assistance from an urgent care center. Only a handful of the nation's 11,000-plus urgent care centers offer medical marijuana prescriptions.
One such center is Innovative Express Care in Chicago's Lincoln Park neighborhood. According to their website, patient applications in Illinois are frequently rejected due to "lack of a bona-fide patient–physician relationship." According to president and founder Rahul Khare, MD, medical marijuana "is still new to the medical community, so some doctors are reluctant to sign the certification for patients due to the lingering stigma surrounding marijuana and the fact that this isn't something that was covered in medical school." He adds, "Our goal is to simplify the process by offering convenient, quality care for patients who may benefit from the use of medical marijuana ."


Impact on Occupational Medicine
While medical marijuana is mostly irrelevant to the day-to-day operations of urgent care, it certainly has relevance in occupational medicine; many occupational medical care centers provide treatment for workers compensation injuries and drug testing for employers, as well as employment and compliance physicals for police, fire, DOT, FAA, and others. This type of organization would likely encounter individuals using marijuana legally. As such, occupational medicine centers are well-advised to become acquainted with the legal issues surrounding medical marijuana, particularly how the legalization of marijuana for medical or recreational use interplays with employer-enacted prohibitions against drug use. Further, healthcare employers may encounter the issue of legal marijuana use among staff, thus presenting another layer to an already legally complex subject.
The protocols addressing issues on medical marijuana drug screenings are quite simple on the federal level. Under federally regulated drug testing regimes, federal rules take precedent over state laws. Under these rules, users are not granted an exemption from positive drug screens arising from marijuana use to treat a medical condition. In fact, the Office of Personnel Management has taken steps to clarify the longstanding policy established by a 1986 Executive Order issued by President Reagan requiring the federal workplace and workforce to be drug-free. OPM Director Katherine Archuleta wrote in a memo posted on the agency website earlier this summer, "Heads of agencies are expected to advise their workforce that legislative changes by some states and the District of Columbia do not alter federal law, existing suitability criteria or Executive Branch policies regarding marijuana."
When dealing with situations outside the scope of federal regulations, particularly in states where medical marijuana is legal, the issue of workplace testing becomes much more complex. William Newkirk, MD, FACPM, developer of SYSTOC and author of several leading occupational medicine textbooks, advises that best practices dictate a medical review officer should always consult state law regarding the issue of medical marijuana in state-regulated drug testing.(1) The appropriate path to take on this issue is quite clear in some states where duties and obligations regarding drug testing medical marijuana users have been clearly stated. For example, in Nevada, state legislation specifically says that provisions of this chapter do not require any employer to accommodate the medical use of marijuana by employees.
While the California Supreme Court has ruled that the state's medical marijuana law does not protect patients from drug testing, an Oregon appeals court has held otherwise. If the state's position is not clear, Dr. Newkirk advises consulting with the employer mandating the testing on the potential legal liability presented to determine how the employer would like to proceed. Despite the fact that marijuana is still treated as a controlled substance in an overwhelming majority of states, employer drug testing programs still, as a matter of course, operate on the premise that employees should refrain from using marijuana.(5)
Moreover, provisions in more than half of the 25 states with existing medical marijuana laws explicitly prohibit marijuana use at work or provide that employers are not required to accommodate any form of marijuana use in the workplace. State courts in California, Colorado, Washington, and Montana held that state medical marijuana laws do not require employers to accommodate medical marijuana use in the workplace.(6)
The medical marijuana laws of the following eight states contain antidiscrimination or reasonable accommodation provisions addressed to employers: Arizona, Connecticut, Delaware, Illinois, Maine, Nevada, New York, and Minnesota; laws in three of those states (Arizona, Delaware, and Minnesota) address workplace drug testing. It is important to note that none of these laws require employers to tolerate on-duty drug use, nor do they prohibit workplace drug testing—although some some antidiscrimination provisions raise issues as to adverse employment actions based on positive drug tests arising from medical marijuana use.(3)
In sum, healthcare employers need to consider state law and case law, as well as the federal law when reviewing their drug testing policies.(7) There are a number of reasons for healthcare employers to have zero-tolerance policies and substance abuse testing programs, including government contracting requirements, quality patient care, workplace safety, and third-party liability, among others. Urgent care operators should review their existing policies to make sure that they comply with the law, and that they prohibit "any detectable amount" of drugs that are illegal under state or federal law, as opposed to merely prohibiting being "under the influence." Urgent care centers must have protocols in place to deal with situations like postinjury drug screening, preemployment drug screening, random drug-screening, and compliance physicals.
Table 1. Medical Marijuana Laws by State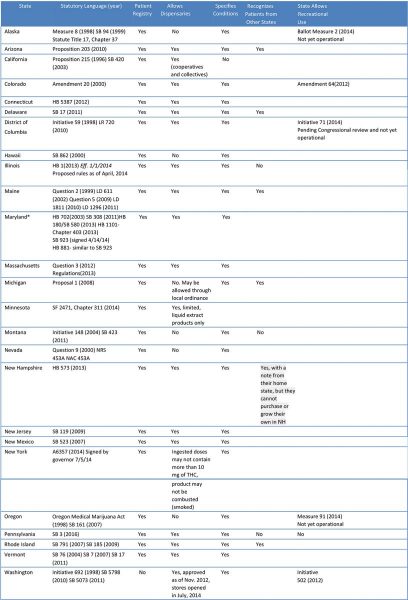 *Maryland has a limited medical marijuana defense for possession only.
Adapted from http://www.ncsl.org/research/health/state-medical-marijuana-laws.aspx
References
NCSL.org. State Medical Marijuana Laws. 2015. Available at: http://www.ncsl.org/research/health/state-medical-marijuana-laws.aspx. Accessed October 22, 2015.
Medicalmarijuana.procon.org. Three States Considering the Legalization of Medical Marijuana – Medical Marijuana – ProCon.org. 2015. Available at: http://medicalmarijuana.procon.org/view.resource.php?resourceID=002481. Accessed October 22, 2015.
Justice.gov. Justice Department Announces Update to Marijuana Enforcement Policy | OPA | Department of Justice. 2015. Available at: http://www.justice.gov/opa/pr/justice-department-announces-update-marijuana-enforcement-policy. Accessed October 22, 2015.
The White House. Marijuana. 2015. Available at: https://www.whitehouse.gov/ondcp/marijuana. Accessed October 22, 2015.
Newkirk WL. Federal Drug-Testing Rules Modified. Occupational Health Tracker. 2010-11;13(4):6.
Huntonlaborblog.com. Anti-Discrimination Provisions in State Medical Marijuana Laws Raise Additional Considerations for Workplace Drug Testing: Hunton Employment & Labor Law Perspectives. 2015. Available at: http://www.huntonlaborblog.com/2015/01/articles/criminal-background-checks/antidiscrimination-provisions-in-state-medical-marijuana-laws-raise-additional-considerations-for-workplace-drug-testing/. Accessed October 22, 2015.
Sabus M. Changing Marijuana Laws: How Do You Keep Your Workplace Drug Free? TLNT: The Business of HR. January 31 2013.
Medical Marijuana: An Urgent Care Issue?