URGENT MESSAGE: America's undocumented immigrant population—those who are ineligible for Medicaid, Medicare, or private insurance via a state or federal exchange—are increasingly served by storefront "bodega clinics" that offer a range of services on a walk-in, cash-pay basis. While these "clinicas" provide much-needed access to the communities they serve, there are also concerns about the quality and oversight of their operations. Nonetheless, they could also teach many urgent care centers a thing or two about how to operate a cash-only model with menu-based pricing and multiple primary and episodic services in one location.
Alan A. Ayers, MBA, MAcc is Vice President of Strategic Initiatives for Practice Velocity, LLC and Practice Management Editor of JUCM—The Journal of Urgent Care Medicine.
 Urgent care came into being primarily to "bridge the gap" between primary care and the emergency room. And there was indeed a sizeable gap, as evidenced by the 10,000+ clinic, $16 billion healthcare giant that urgent care has become. But access gaps remain, particularly in communities where large swaths of the poorest residents remain outside the reach of most conventional healthcare services.
Take the greater Los Angeles area: In a region that nearly 5 million Latinos call home, a million undocumented Latino immigrants remain uninsurable, in accordance with government regulations that disqualifies them from receiving Medicaid, Medicare, or buying insurance from an exchange. Add to those thousands more low-income residents who don't have regular health insurance, and it amounts to a significant number of people without reasonable access to affordable healthcare. And the alternatives for these people are few: go to the ED, head south to Tijuana for medical care, or forego care altogether.
'Bodega' Clinics
It was thus that this gap led to the inevitable rise of what medical industry folks dubbed "bodega" clinics—small, storefront health clinics that cater primarily to low-income Latinos. Located mostly in strip malls throughout predominantly Latino neighborhoods, bodega clinics stand alongside tire shops and carry outs while offering basic, affordable healthcare to the underserved local population. A staple in Latino communities such as Los Angeles, Phoenix, and Miami, they tend to have the following characteristics:
Cash-only payment model
Generally do not accept private insurance
Spanish-speaking providers
Staffed with lower-cost NPs/PAs
Posted prices
Late-evening and weekend hours
In-clinic medication dispensing
Basic urgent care, labs, and imaging services
Basic chronic care services
Wellness examinations
These bodega clinics, which operate on a for-profit model, provide an invaluable service to the communities around them. In fact, these "clinica familiars" are not only an ideal choice for uninsured Latinos, but they're often the de facto medical home for day laborers who work long hours, Latinos comfortable with smaller, more intimate clinical settings like the ones back home, and those who simply have more trust in providers of the same ethnic and cultural background. Additionally, the providers they employ are licensed and typically in good standing with state medical boards. As such, bodega clinicas remain a fixture of everyday life, and are woven into the fabric of the surrounding Latino community.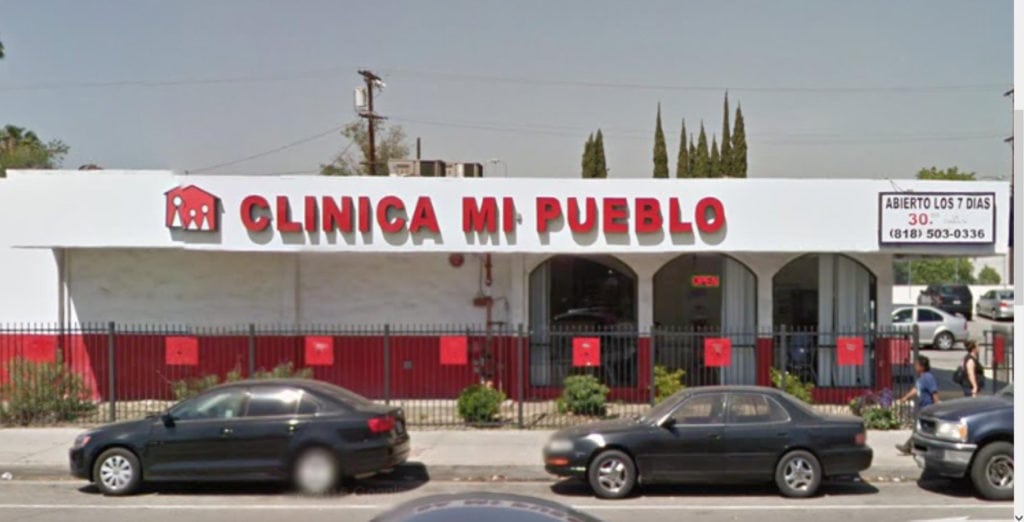 Clinica Mi Pueblo in Burbank, CA has signage that clearly posts its $30 price for a basic medical consult.
Clinica Mi Pueblo
One such clinica system, Clinica Mi Pueblo, serves as a well-run example of one these cash-only, "parallel" health systems. Located in Southern California, Clinica Mi Pueblo consists of nine clinics in the greater Los Angeles area.
The clinica system, which asserts "You don't have to go to Tijuana for medical care" as its marketing slogan, has a clean, well-organized website that highlights its various service offerings:
Everything in one place—All services provided under one roof. Medical consultations, surgical procedures, laboratory, diagnostic imaging, pharmacy, and basic urgent care available in one location.
10% off coupon—By subscribing to the clinica online mailing list, users are given a 10% off coupon for their next visit.
Price-tiered physical exam packages—Two levels of exam offered:

Package 1: General medical consultation/laboratory analysis—urine, glucose, hemoglobin, cholesterol, LDH, HDL, triglycerides, $95
Package 2: Everything in Package 1 plus electrocardiogram and x-ray thorax photo (heart and lungs), $175

Individual services—Clinica patients have walk-in access to a full menu of medical consultations, specialty services, diagnostic tests, and laboratory tests:

General Medical Visit – $30
Specialty Visit – $60
Medical Check-up & Consultation – $95-$175
X-ray – $80
Ultrasound – $130-160
Echocardiogram – $250
Electrocardiogram – $40
MRI – $350
Endoscopy – $300
Colonoscopy – $450
Espirometry – $45
Audiometry – $45
General Urine Examination – $5
Glucose Blood Test – $10
Hemoglobin Test‒Anemia – $10
Complete Analysis for Men – $120
Complete Analysis for Diabetes – $120
Complete Blood Analysis – $95
Influenza Test – $35
Hemogram – $25

Hours of service—Most of the nine Clinica Mi Pueblo locations are open by 8:30 am on weekdays, with some staying open as late as 7 pm and others offering weekend hours.
Typical clinica patients are working-class families and their children, laborers, and young adults who live and work in the surrounding community. They come in for services such as checkups, vaccinations and immunizations, wellness exams, and basic injury/illness treatment.
Mainstream Healthcare Concerns
Bodega clinicas like Clinica Mi Pueblo are called a "parallel" health systems because they provide care to the poor and uninsured right alongside mainstream healthcare systems that treat the insured. And while Clinica Mi Pueblo has a solid reputation, some of the other for-profit, cash-only health systems, while providing a valuable service for communities that desperately need them, are often met with reservation and distrust from the established medical community.
One reason that health officials are skeptical is these clinicas are cash-only, so they don't face the same strict regulations that insurance-based clinics do. Hence, no one really knows who owns these clinics, or what standard of care they administer. Further, according to anecdote, there are concerns that they employ questionable medical practices, such as overprescribing antibiotics, overusing injectable sueros (IVs), and keeping patients beholden to the clinica for med refills rather than issuing a proper prescription. And since most are in fact private doctors' offices rather than genuine clinics, they escape the tough state and federal oversight required of licensed facilities.
Still, the larger medical community is warming to the idea of embracing these clinicas, and even bringing them into the larger fold. As Affordable Care Act mandates fall short due to a lack of physicians, clinica providers could potentially help ease the load. But they'd have to give up their cash-only operating models in favor of accepting insurance payments—and all the oversight, regulation, and scrutiny that comes with it. And while it's unlikely that many clinicas will actually come into the fold, a few probably will, as the ACA promises increased volumes, which means increased payments.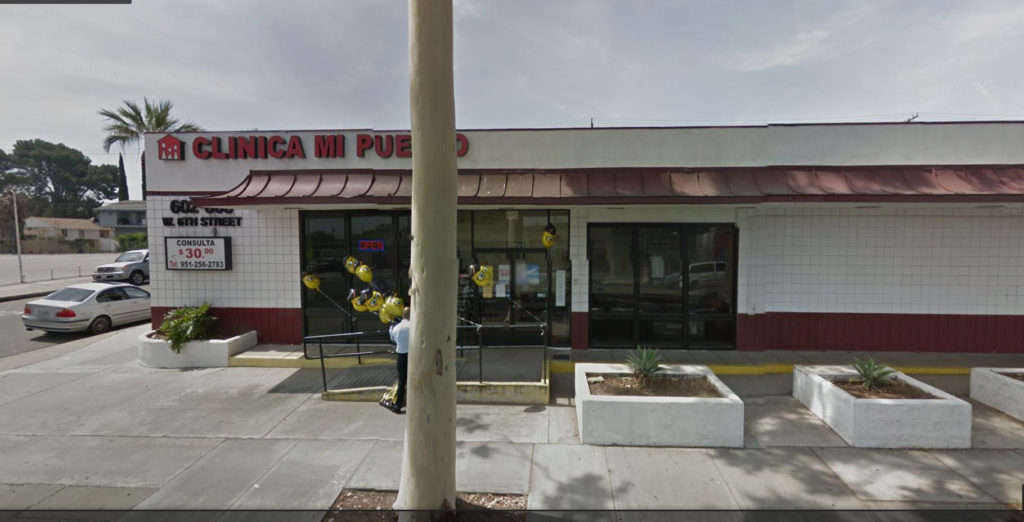 Bodega clinicas" like Clinica Mi Pueblo in Corona, CA serve the Latino communities of large urban areas like Los Angeles with affordable cash pay pricing on a range of primary and urgent care services.
Conclusion
The bodega clinic urgent care model has shown itself to be an effective safety net, providing affordable care access to millions of uninsured Latinos who lie just beyond the reach of traditional healthcare. And while some health officials are skeptical as to whether or not these clinics truly deliver quality medical care, there's no question that they provide a valuable service to those underserved communities.
This is possible mainly through their value-based, cash-only service model, which has few barriers to startup. Hence, the uninsured and indigent aren't left to fend for themselves, as prices are affordable and cash is readily accepted. It truly is a parallel healthcare system, but an ideological one that need not be restricted to undocumented Latino immigrant communities. Because despite the rollout of Obamacare, there are still pockets of poor, underserved regions of the country that could greatly benefit from a similar parallel system. Urgent care owner-operators would benefit as well, as adding a value-based cash model to run alongside their standard practices could potentially unlock valuable new revenue streams. Of course, such a model wouldn't be feasible everywhere, but to the mainstream urgent care community, it's certainly an idea worth exploring in earnest.
Clinica Mi Pueblo—Shedding Light on Urgent Care Solutions for America's Uninsured Latino Population