Published on
Differential Diagnosis
Amelanotic melanoma
Cutaneous squamous cell carcinoma
Nodular basal cell carcinoma
Subungual fibroma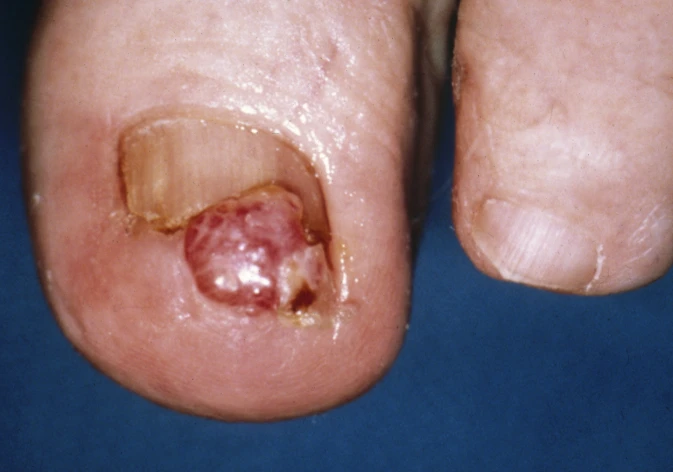 Diagnosis
The correct diagnosis is amelanotic melanoma, a clinical subtype of cutaneous melanoma with little to no pigment on visual inspection. Amelanotic melanomas account for 2% to 10% of all melanoma cases. Any subtype of melanoma can present as amelanotic; however, nodular melanomas and unclassified melanomas (including desmoplastic and subungual melanomas) are most commonly reported.
Learnings/What to Look for
Diagnosis is difficult as the appearance is more consistent with a mole, fibroma, hypertrophic scar, basal cell carcinoma, or squamous cell carcinoma
Risk factors for amelanotic melanoma include exposure to UV rays, moles, fair skin, blond or red hair, older age, family or personal history of melanoma, and high amount of moles
While no survival difference between pigmented and amelanotic melanomas exists, amelanotic melanomas tend to be associated with a worse overall survival rate than the pigmented counterpart, likely due to delay in diagnosis
Pearls for Urgent Care Management
Referral to dermatology is warranted for further treatment considerations, including surgical excision
Acknowledgement: Image and case presented by VisualDx (www.VisualDx.com/jucm).
Click Here to download the article PDF
A 49-Year-Old with a 4-Week-Old Lesion on Her Toe