We all know urgent care has been growing steadily, nearly since its inception. Hard data on the size of the marketplace can be hard to come by, though, as different sources apply varying definitions of what exactly constitutes an urgent care center.
Similarly, we know proper utilization of urgent care services has tremendous potential to lower healthcare costs compared with visits to the emergency room. Again, though, the details can be hard to put a proverbial finger on in the Big Data picture.
CBInsights tries to shed some light on both issues in a new research briefing called the Consumerization of Healthcare, which observes that "urgent care has taken off by finding a sweet spot between the long wait times of a traditional primary care clinic and the expense of the emergency department." It attributes urgent care's popularity to patient demand, convenience of care, and efforts by payors to steer patients with nonemergent complaints away from more expensive ED visits. Perhaps best of all for urgent care stakeholders, the report predicts continued growth through at least 2020.
The data below may be helpful with your own negotiations with payers or potential occupational medicine customers.
Urgent Care Market Growth

Source: CBInsights
Cost of Urgent Care vs the ED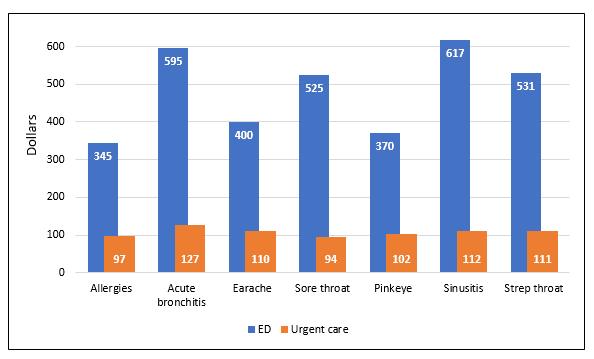 Focusing on the Growth—and Healthcare Savings—of Urgent Care