Published on
Urgent message: Rashes are common in urgent care and taking a careful patient history is important for proper diagnosis of the underlying cause.
ICHHA SETHI, MB,BS, JASKARAN S. SETHI, MB,BS, MIKAYLA SPANGLER, Pharm D, BCPS, and SHAILENDRA SAXENA, MD, PhD
Introduction
Physicians in both primary care and urgent care clinics encounter facial rash quite frequently. Given the high prevalence and variable number of etiologies, it is important to diagnose these patients appropriately so that they can be treated in a timely fashion.
Case Presentation
An 8-year-old male was brought into the family medicine clinic with an erythematous rash on both cheeks that had been present for 2 days (Figure 1). Also present was an erythematous rash on both arms, which was noticed just before he came in for this appointment. He had prodromal symptoms of fever, runny nose, and a mild cough for 2 to 3 days. The patient denied any shortness of breath, nausea, vomiting or diarrhea. The patient's mother was very concerned about the rash.
Physical Exam
The patient had an erythematous rash on bilateral cheeks, with classic circumoral pallor. He also had a lace like reticulated rash on bilateral arms. The rest of the physical exam was normal.
Discussion
Erythema infectiosum (Fifth Disease) is an infection caused by the human Parvovirus B19. It is most common in children aged 5 to 18 years. Fifth Disease is the "fifth" in a
Differential Diagnosis
It is very important to differentiate between viral exan- thems that appear in patients in same age group but that are associated with features more varied than just facial rash. Patients with Rubella commonly present with a mac- ulopapular facial rash associated with low-grade fever, swollen glands (suboccipital and posterior cervical), joint pain and nonexudative conjunctivitis.1 Those with roseola or exanthema subitum present with a facial rash and these conditions are seen in younger infants.2
Other common differential diagnoses of rash include, but are not limited to varicella zoster virus, mumps, impetigo, contact dermatitis, heat rash (prickly heat), eczema and hives.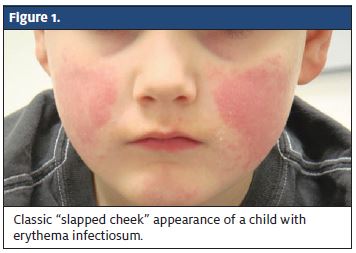 Discussion
Erythema infectiosum (Fifth Disease) is an infection caused by the human Parvovirus B19. It is most common in chil- dren aged 5 to 18 years. Fifth Disease is the "fifth" in a