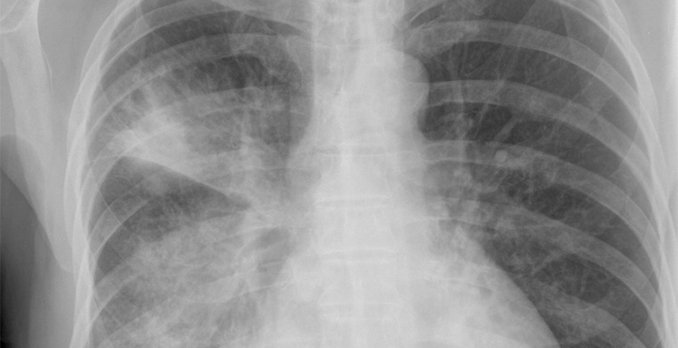 Differential Diagnoses
Foreign-body aspiration
Pulmonary embolism
Cancer
Parapneumonic effusion
Examination
The mother reports that in addition to fever, her daughter has had chills. Physical examination shows tachypnea, tachycardia, hypoxia, a temperature of 101.4°F, and crackles.
Testing
Chest x-rays are not necessary in all patients, unless there is hypoxemia, respiratory distress, or diagnostic uncertainty. The infiltrate on the radiograph obtained for this patient is helpful in determining her diagnosis. Pulse oximetry should be checked in all patients with a diagnosis of pneumonia or suspected hypoxemia. In addition, a viral test should be done to determine whether the etiology is viral or bacterial.
Diagnosis
Pneumonia
Treatment
Treatment consists of antibiotic therapy that is based on the patient's age and severity of illness, plus local resistance patterns of pathogens. The patient was given amoxicillin, and the mother was asked to take her daughter to her primary-care provider for follow-up within 24 hours. The mother called back the next morning to report that her daughter was not vomiting. The mother was asked to bring the daughter in for a recheck, and it was determined that the patient was doing well and would recover.
Learnings
Pediatric patients with any of these conditions should be transferred to an emergency department:
Age-based respiratory rates:

2–12 months: >50 breaths/minute
1–5 years: >40 breaths/minute
>5 years: >20 breaths/minute

Respiratory distress:

Retractions
Grunting
Nasal flaring

Altered level of consciousness
Oxygen saturation <90%
Infants <6 months of age
Concern for a pathogen with increased virulence such as methicillin-resistant Staphylococcus aureus
Concern about compliance or inability to ensure good care at home
Toxic appearance or underlying medical conditions that predispose to complications
Acknowledgment: Image courtesy of Life in the Fast Lane (http://lifeinthefastlane.com/resources/image-database/)
Eighteen-Year-Old with Cough and Yellow Sputum