Alan A. Ayers, MBA, MAcc is Chief Executive Officer of Velocity Urgent Care and is Practice Management Editor of The Journal of Urgent Care Medicine.
Urgent message: While hospital emergency departments view the tactic of advertising their "wait times" to the community as a strategic marketing advantage, the skewed perceptions it creates can mislead patients and even put patients' health at risk.
Among the many factors leading to the rise of urgent care has been patient dissatisfaction with the status quo of a typical hospital emergency department visit. Not only are most ED visits expensive, but even nonemergent presentations can mean an hours-long wait to be seen by a provider, treated, and discharged. Nowadays, with low-acuity patients having a plethora of speedier and less expensive on-demand care options to choose from, hospitals are increasingly advertising their ED wait times as a marketing tactic toward courting back those patients in the face of growing competition.
ED's Increasingly Advertising Wait Times
We see many major health systems regularly advertising ED wait times (see Figure 1) and guaranteeing shorter waits through a variety of marketing channels. One popular tactic is providing estimated wait times by text. A patient can text their zip code to the hospital, for example, and the backend application will return their distance in miles from the local surrounding EDs, along with an "estimated" wait time. Hospitals are also employing apps that send push notifications of wait times to smartphone users, as well as advertising ED waits on their websites and billboards.
Figure 1.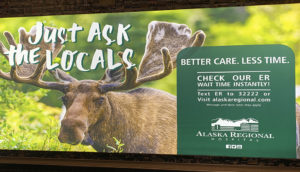 The stated goal of hospitals for publishing ED wait times is increased transparency, load distribution of patient volume across EDs within the same hospital/health system in a given geographic area, and improved patient satisfaction—all effective tactics for diverting patients away from competing healthcare providers, boosting the community image of the hospital, and of course increasing revenue. Alongside the posting of ED wait times, most hospitals are also "guaranteeing" patients that they will be seen by a provider within a certain time period. Most major hospitals define "wait time" as the time elapsed from arrival in the ED, to the time it takes to be seen by an Emergency Medical Treatment Act and Labor-approved (EMTALA) professional—whether it's an MD, DO, PA, or ARNP.
Problems with Advertising ED Wait Times
Even as hospitals and health systems aggressively ramp up their advertising of ED wait times, the tactic is not without its share of critics who see it as misleading and potentially risky to certain patients. From the perspective of urgent care operators who treat nonemergent conditions, hospitals that advertise ED wait times falsely skew patient perceptions of just how long their total time investment will be when deciding between healthcare options. A patient may think, for instance, that because the hospital smartphone app states that "your average wait time in the ED is 2 minutes," that the ER is the better option for getting in and out quickly. What patients don't realize, though, is that the tantalizingly brief posted "wait time" might in fact be the wait from the time of arrival to triage. So, when the triage nurse deems the patient's presentation as nonemergent, there's a good chance that there will be much longer additional waits ahead.
The problem is that there is a lack of a standard definition within the larger healthcare industry of what exactly a wait time is. Some healthcare facilities, as mentioned, count it as door to triage, whereas others may consider the timer still running until the patient is examined by an EMTALA-qualified provider. But even then, there is a gray area and room to "game the system," as who counts as the "provider"—the physician, the triage nurse, resident, PA, or NP—can vary greatly across providers for the purposes of calculating wait time.
Another potentially serious problem with posting ED wait times is that some patients with true emergent conditions may see the posted wait time on an app, through a text or website, mistakenly think the wait time applies to them as well, and either forego care or "self-triage"—ie, divert to a facility farther away to circumvent what they deem too long a wait. To the contrary, emergent conditions always move to the head of the line at every ED, and are treated and stabilized urgently, without wait and regardless of insurance or ability to pay. These are the conditions that are threatening to life or limb, which arrive by ambulance, or involve presentations such as uncontrolled bleeding, unconsciousness, and chest pain. And because EDs must be equipped to handle any contingency or occurrence in a community—from automobile accidents to a weather-related natural disaster to a terrorist attack—patients with nonemergent conditions will necessarily move to the back of the line. And depending on how busy the ED is on a given day—there's no way to "pace" emergencies the way an urgent care provider can pace nonemergent visits—those wait times can (and do) extend to hours.
Possible Solutions for Greater Transparency and Patient Protection
The charge for hospital EDs, then, is to offer better transparency to patients, disseminate more accurate and realistic wait times, minimize patient self-triaging and the accompanying risk, and promote better utilization of community healthcare resources. To that end, we suggest healthcare leaders consider the following steps:
Develop a uniform, industry-wide definition of exactly how an ED wait time is measured and calculated. The American College of Emergency Physicians (ACEP) Emergency Medicine Practice Committee, which has studied the issue, suggests "door to qualified medical provider."
Clear disclaimers anywhere an ED wait time is posted or disseminated that those waits do not apply to patients with emergent or life-threatening conditions. There must be emphasis that emergent patients should either call 911 without delay or get to the closest facility regardless of advertised wait times, as they will be seen immediately.
Emphasize to nonemergent patients that the ED is designed to handle medical emergencies, trauma, resuscitation, and hospital admissions. Nonemergent cases that present to the ED consume this vital community resource. And because the ED must always be fully equipped and staffed to handle whatever may occur in a community—eg, an airline disaster or a hurricane—low-acuity visits necessarily absorb the cost and deplete the resources of that readiness.
Educate the public, payers, and employers so they understand that advertised ED wait times can be misleading, and that the most important metric is not "time to provider," but rather, the total cost and time investment of the entire patient encounter beginning with the drive to the healthcare facility to being discharged after treatment. Primary care providers and urgent care providers should therefore make a concerted effort to cultivate mutually beneficial referral relationships so that PCP patients understand that for evening, night, and weekend nonemergent issues, urgent care is often the faster, more convenient, and less expensive option.
Conclusion
While there are certainly good intentions behind advertising hospital ED wait times, the practice is often misleading and can carry with it a considerable risk to patient health and safety. Healthcare providers such as urgent care operators should, therefore, ensure that their patients understand what a realistic wait time is for a nonemergent condition in both urgent care and the ED, and educate them on the appropriate utilization of each for a given health presentation.
Advertised ED Wait Times Negatively Skew Patient Perceptions Regarding Nonemergent Encounters