Differential Diagnosis
Allergic reaction
Hematoma
Inflammation
Soft tissue emphysema
Soft tissue infection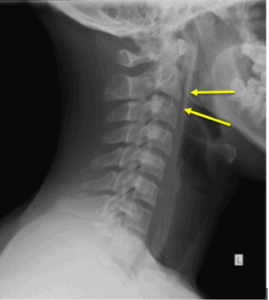 Diagnosis
This patient was diagnosed with soft tissue emphysema, which can cause discomfort—what this patient perceived as a foreign body sensation. In this case it arose from pneumomediastinum tracking into the neck soft tissues (confirmed on the subsequently performed chest radiograph).
Learnings/What to Look for
Streaky hypodensities in the soft tissues of the neck compatible with gas
This was like secondary to raised intrathoracic pressure from coughing after choking on food. Other possibilities for soft tissue emphysema include penetrating trauma and infection with a gas forming organism
Pearls for Urgent Care Management and Considerations for Transfer
Transfer to the ED for consideration of CT imaging to evaluation for perforation, Boerhaave's syndrome
If the patient is hemodynamically unstable, start IV access and IV fluid resuscitation while awaiting transfer
Acknowledgment: Images courtesy of Teleradiology Specialists.
A 9-Year-Old Girl Who Choked on a Chicken Nugget