Differential Diagnosis
Hip dislocation
Ipsilateral femoral neck fracture
Osteoid osteoma
Proximal femoral insufficiency fracture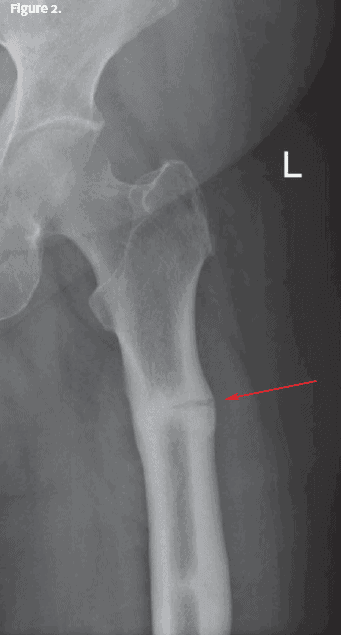 Diagnosis
The AP view shown reveals transverse incomplete lucency of the vocally thickened lateral cortex of the proximal femoral diaphysis. This patient experienced a proximal femoral insufficiency fracture related to bisphosphonate therapy.
Bisphosphonates are used for osteoporosis therapy and act by inhibiting bone resorption by suppressing osteoclasts. Although this results in increased bone mineral density, it also decreases bone turnover and prevents remodeling and healing of cracks that occur in bone as a result of normal activity.
Learnings/What to Look for
A transverse fracture of the proximal femur (distal to lesser trochanter)with associated localized thickening of the lateral cortex due to "minimal trauma" in a postmenopausal woman receiving long-term bisphosphonate therapy should be considered diagnostic for a bisphosphonate-therapy related insufficiency fracture
Stress fractures occur in young military recruits and athletes and involve the medial cortexof the proximal femur
Bland osteoporotic insufficiency femoral fractures are typically more proximal (ie, femoral neck)
Pearls for Urgent Care Management and Considerations for Transfer
In older patients, femoral neck fractures may be treated with percutaneous pinning, a sliding hip screw, or arthroplasty
Crutch-assisted weightbearing will be necessary pending further evaluation by an orthopedist
Acknowledgment: Images and case presented by Experity Teleradiology (www.experityhealth.cm/teleradiology).
View More Like This:
A 71-Year-Old Woman with Femur Pain After a Fall