Differential Diagnosis
Femoral head avascular necrosis
Hip tendinitis and bursitis
Subcapital hip fracture
Snapping hip syndrome
Cortical thickening due to stress reaction or impending stress fracture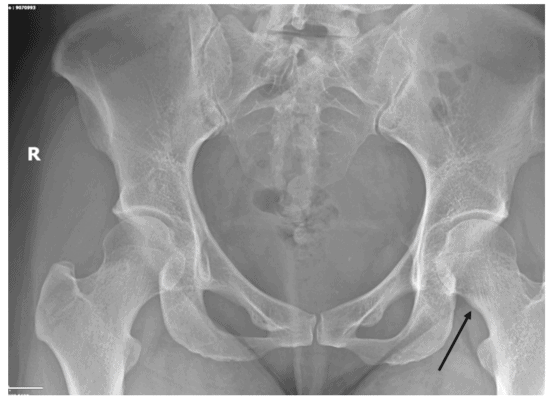 Diagnosis
The image shows focal cortical thickening along the medial wall of the femoral neck. This could be due to a stress reaction and be the precursor to a stress fracture. There is no evidence of lucent fracture line.
Learnings/What to Look for
Causes of focal cortical thickening may include osteoid osteoma, chronic infection, and stress fracture—all of which may appear similar on radiographs. As such, more advanced imaging is required
Pearls for Urgent Care Management and Considerations for Transfer
This patient should undergo an MRI. If one is not available on site, she should be referred
Acknowledgment: Image courtesy of Teleradiology Associates.
A 47-Year-Old Woman with Hip Pain After Exercise