The Resolution
Differential Diagnosis
Cutaneous larva migrans
Gnathostomiasis
Loiasis
Strongyloidiasis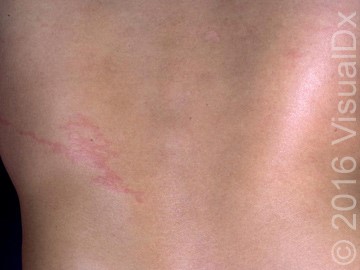 Diagnosis
This patient was diagnosed with gnathostomiasis, a helminth infection contracted after ingesting raw fish, frog, chicken, or pork infected with Gnathostoma spinigerum and other minor Gnathostoma spp.
Learnings
Gnathostomiasis is endemic to parts of Asia and South/Central America
Symptoms are thought to relate to the movement of the parasite through the body

Constitutional symptoms may occur when it moves through the wall of the stomach (2 days to 2 weeks after ingestion), and skin manifestations when it moves under the skin (3 to 4 weeks after ingestion)

Cutaneous manifestations are not unlike loiasis, in which the patient complains of migratory cutaneous and subcutaneous swellings which may be amorphous or resemble cutaneous larva migrans (serpiginous)
Patients may complain of pruritus, arthralgias and myalgias, fever, nausea, and abdominal pain. However, larvae can migrate through any organ and, therefore, nearly any physical symptom is possible (eg, right-upper-quadrant pain and transaminitis may occur as the larvae migrate through the liver)
Pearls for Urgent Care Management and Considerations for Transfer
Albendazoleand ivermectin have been shown to be curative for cutaneous symptoms
Recurrence requiring retreatment is not uncommon
Acknowledgment: Images and presentation courtesy of VisualDx.
A 37-Year-Old Man with Multiple Symptoms Following a Trip to Japan