Differential Diagnosis
Appendicitis
Diverticulitis
Epiploic appendagitis
Omental infarction
Segmental colonic thickening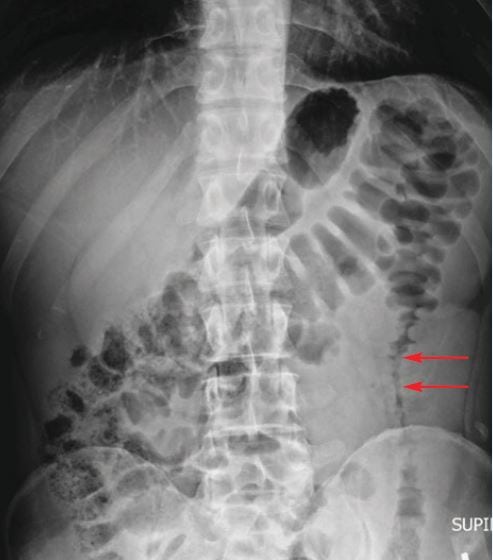 Diagnosis
This patient was diagnosed with segmental colonic thickening, with possible colitis. The 12 cm segment of persistent narrowing in the descending colon indicates this to be segmental disease. The information in Table 1 may be helpful in delineating the extent of disease in patients with this diagnosis.
Table 1. Differential Diagnosis of Colonic Thickening
Focal disease (2 to 10 cm)
• Neoplasm
• Diverticulitis
• Epiploic appendagitis
• Infection (tuberculosis/amebiasis)
Segmental disease (10 to 40 cm)
• Usually colitis
• Crohn's colitis
• Glutaraldehyde colitis
• Ischemia
• Infection
• Ulcerative colitis (typically begins in the rectum and spreads proximally)
• Rarely neoplasm (especially lymphoma)
Diffuse disease (most of the colon)
• Always benign
• Infection
• Ulcerative colitis
• Vasculitis (almost always involves the small bowel as well)
Learnings/What to Look for
Almost any pathologic condition can affect any areas of the colon. However, some pathologic entities have a propensity to localize to certain areas:

Cecal region – amebiasis, typhlitis (neutropenic colitis), tuberculosis

Isolated splenic flexure and proximal descending colon – watershed area for low-flow intestinal ischemia

Rectum – early stages of ulcerative colitis, stercoral colitis

Multiple skip regions – Crohn's disease

There is significant overlap in the degree of colonic wall thickening among different colonic pathologic processes

Mild thickening – plaque-like tumors, mild colonic inflammation

Marked colonic thickening > 1.0 to 1.5 cm – pseudomembranous, tuberculous, cytomegalovirus colitis, colonic neoplasms, vasculitis
Pearls for Urgent Care Management and Considerations for Transfer
CT is most helpful in assessing colon cancer vs focal/segmental diverticulitis. An acute abdominal series does not have the sensitivity to reliably diagnose serious urgent care conditions such as appendicitis, small bowel obstruction, or malignancy
Acknowledgment: Images and case presented by Experity Teleradiology (www. Experityhealth.com/teleradiology).
A 28-Year-Old Man with Diarrhea and Abdominal Pain