Differential Diagnosis
Neuroblastoma
Merkel cell carcinoma
Rhabdomyosarcoma
Epidermoid cyst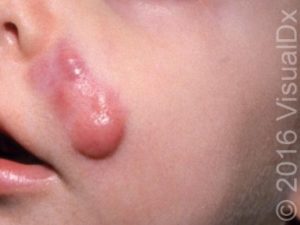 Diagnosis
This boy has a rhabdomyosarcoma (RMS), a malignant mesenchymal tumor of skeletal muscle derivation. Though rare in adults, it is the most common soft tissue carcinoma in children and adolescents.
Learnings
Primary cutaneous RMS most often occurs due to invasion from deeper structure or a frank metastatic event; secondary cutaneous RMS represents advanced disease with a poor prognosis
RMS can occur anywhere in the body, but is more likely to originate in the head and neck; the urinary system (including the bladder); the reproductive system; or the arms and legs
Genetic syndromes and maternal factors associated with childhood RMS include parental cocaine and marijuana use, Li-Fraumeni syndrome, neurofibromatosis type 1, Beckwith-Wiedemann syndrome, and Costello syndrome
Pearls for Urgent Care Management and Considerations for Transfer
Emergent transfer is not necessary, but immediate referral to the child's pediatrician is advisable. Ultimately, the child should be seen by a pediatric oncologist as soon as possible
Acknowledgment: Image courtesy of VisualDx.
A 2-Year-Old with a Nodule on His Face—and Other Concerning Symptoms