Urgent message: Patients will return again and again—and tell their friends, too—if your center's manager and employees are unfailingly courteous, com petent, and thorough.
Alan A. Ayers, MBA, MAcc, Experity
If you're planning to own and operate an urgent care center, you're probably not thinking about managing an administrative office. Instead, you envision yourself hurrying between exam rooms, suturing cuts, setting fractures, and dispensing orders. Digging your way out of paperwork, refereeing staff disputes, tracking down cash, and assuring supply cabinets are stocked are probably not in your dreams.
The front office of an urgent care center isn't only the first and last place patients interact with the practice: It's critical to assuring that the center gets paid for every visit and has all the resources it needs to run smoothly.
But despite its importance, all too often the front office is the least funded and most neglected part of the urgent care operation. By focusing on the management, staff, processes, and physical environment of the front office, an urgent care center operator can potentially improve the performance and morale of the entire facility.
Your Key Employee: The Center Manager
Most urgent care centers employ a full-time manager, although the scope of his or her duties may vary depending on daily patient volume, ownership structure, and the extent of external billing and operations support. In a freestanding, independent urgent care center, the manager is typically a "jack of all trades" who oversees day-to-day operations, implements marketing programs, provides financial reports, and supports the delivery of urgent care services. In a multicenter network, tasks like marketing, accounting, training, and billing may be consolidated into a centralized structure that supports each individual center. In these networks, the managers function in more of an administrative role.
As you'll see in Table 1, an urgent care center manager has a full plate of responsibilities. In many centers, the manager is trained in all support functions and fills in as a medical assistant or front desk attendant as needed.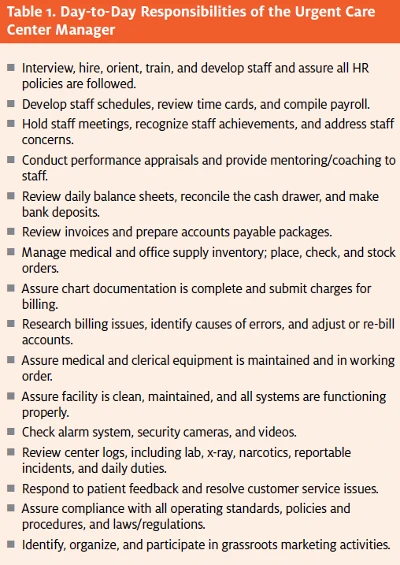 The ownership and volume of the practice will also determine the skills and experience required of an urgent care center manager. This person's background may range from a Registered Nurse or MBA graduate, to a technologist or medical assistant with on-the-job training. As with any position, it's important to assure that the center manager has the knowledge, skills, and experience to be effective and take the facility to the next level. This position requires someone with extensive experience in human resources, clinical operations, billing, customer service, and physician relations. Many centers choose to promote from within, which can be a good practice, but it should be done with consistency and based on merit job qualifications must be met as if hiring someone from the outside. When a center manager's duties are administrative in nature and this person lacks the experience, authority, or management training to make operational decisions, his or her impact on the overall business may be greatly diminished.
Whether promoting from within or hiring externally, qualifications for center managers typically include:
Associates/bachelors degree
Health care experience (3-5 years)
Supervisory/management experience (1-2 years)
Human resources experience
Strong work history/references from previous employers
Customer service experience
Professional presentation
Center managers must be able to perform with minimal supervision and understand that "contributing" means doing more than their assigned tasks—it means having a measurable impact on the company's bottom line by putting the right team members in place, maintaining quality standards, meeting patient needs, and controlling costs.
Productive, happy employees generally feel they're making unique contributions that provide a sense of personal pride. If a center manager has the necessary re- sources, he or she should be able to work independently—anyone who has worked under a dreaded micro- manager understands the motivating power of a leader's trust. When the center manager makes decisions, urgent care providers and the center's owners shouldn't interfere. This doesn't mean to abandon accountability—such as weekly update meetings and written status reports—or to withhold guidance on critical decisions. While each center manager will have a unique style, personality, and talents, the owners still set the overall tone and direction of the practice. The manager's office is typically located near the front desk to oversee the registration staff, answer questions, and resolve customer service issues as they arise. Center managers typically work a 40-hour week, during daytime hours, although they may occasion- ally fill in for absent staff members on nights and weekends. Larger urgent care centers may employ multiple managers who oversee administrative functions and coordinate clinical support, as well as shift supervisors who have management responsibility when the center manager is away.
Greeting the Patient: Registration Staff
Like the center manager, patient registration staff must juggle a variety of tasks while assuring patient needs are met. The front desk is the patient's first interaction when entering the urgent care center and sets the tone for the entire visit and experience. To assure a positive experience, the front desk staff must act as:
Diplomat—Handle difficult situations and patients with tact.
Listener—Pick up on unspoken messages
Problem Solver—Handle each patient and situation efficiently and courteously
Crisis Counselor—Calm troubled or angry patients with compassion and reassurance.
Time Saver—Reduce the number of un- necessary questions or issues for staff and physicians to deal
Public Relations Expert—Present the most positive image of the most positive image of the center.
But the role of the front desk doesn't stop with great customer service. The staff has to be knowledgeable and comfortable with insurance benefits and how they're administered, acting in the following capacities:
Investigator—Decipher information from an insurance card, website, or telephone
Validator—Access, obtain, and under- stand information about insurance and benefits
Enforcer—Collect patient balances in a professional, yet "forceful"
In short, the front office staff needs to be trained well enough to understand insurance terminology and explain it competently to patients. Moreover, if patients don't understand their benefits, the front desk staff must be willing and able to help.
Salaries and benefits are an urgent care center's biggest costs, so the extent to which the center manager can schedule front office staff without compromising service will have an immediate impact on the bottom line. Consideration should be given to seasonal and daily volume trends. For instance, if a center sees most of its patients between 9:00 am and noon, and again between 4:00 pm and closing, there may be times in the after- noon when the registration staff is underutilized. It's the center manager's responsibility to assure time isn't wasted, by delegating tasks such as cleaning, filing, marketing, or patient follow-up during any slow periods. Some centers hire part-time front office staff in the mornings and evenings and then utilize back office staff for patient registration in the afternoon.
Typically, a front office staff member is hired as an entry level employee who receives on-the-job training and meets the following qualifications:
Previous health care experience or
Completing and passing of a hiring assessment tool.
Strong and positive feedback from professional references.
Professional appearance and positive
Center managers must understand that hiring for the front office is much more than filling openings— it's identifying and meeting the center's operating needs. Front office staff typically has the highest turnover of any position in an urgent care center. Even if there's a desperate need to get a position filled, hiring out of panic or desperation almost always leads to regret. The costs associated with hiring the "wrong" individuals for front-line positions is more than the time, money, and effort of recruiting, interviewing, and training it's also measured by future business that may be lost when that employee interacts with customers, the costs of billing and collections errors, and pressures on other employees who must pick up the slack created by underperformers.
It's therefore vital to take time to find the "right" personality and skills for front office staff. The capacity and desire for further growth are essential traits no point in hiring someone who is as "good as they're going to get" or someone who has great potential but no desire to grow in the job. Effective front office staff provides a reliable pipeline for future center managers.
Setting the Front Desk in Motion
Once a manager and front office staff have been selected, the real work begins. People are only effective insofar as good policies, procedures, and processes have been defined, implemented, and consistently executed. In short, staff members who know exactly what they're supposed to do in every patient en- counter experience less stress and work more efficiently than those who face their jobs unprepared.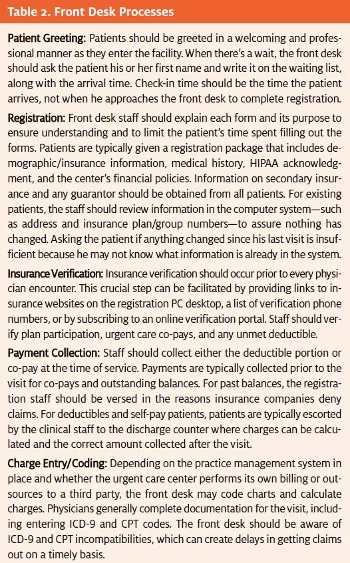 Critical front office processes include greeting and registering patients, verifying insurance, calculating charges, and collecting payment. Staff must be confident in the duties they're assigned, as highlighted in Table 2. Whenever the front office staff seems ineffective, the center manager should watch closely to determine whether it's a "people" or "process" issue. If burdensome documentation and difficult-to-navigate computer systems cause the front desk to get behind and focus more on "processing" than "serving" patients, then an examination of front desk systems might be in order.
If processes are sound but the front office staff isn't motivated to perform, implementing employee incen- tive programs can help the center achieve its goals. Sample incentives include:
Lowest number of cancellations in a month (% of hours scheduled).
Greatest cash collections (% of amount owed).
Lowest number of registration errors (% of pa- tients registered).
Highest patient satisfaction (% of patients seen).
Lowest number of billing errors (% of trans- actions).
Staff performance can also be improved by focusing on the work environment.
Put Yourself in the Patient's Shoes
Although creating a comfortable atmosphere at the front desk may seem more daunting than providing excellent clinical care, it's really not that difficult just look at the experience from the patient's perspective. Patients want reassurance that they're going to be treated well and a front desk that's organized, efficient, friendly, and aesthetically pleasing provides cues as to the medical care that can be expected in the back.
First off, watch your signage. Entering a practice where the reception window has multiple pieces of pa- per taped around it either handwritten and photo- copied notices projects neither an inviting or professional air. Moreover, signs that communicate what patients can't do (or what they must do) often convey a very negative and distrusting tone. The best patient communication is face-to-face, so limit signage unless it's absolutely necessary. When signage can't be avoided, it should be professionally made and carefully phrased.
You'll find additional suggestions on front office setup and layout in Table 3.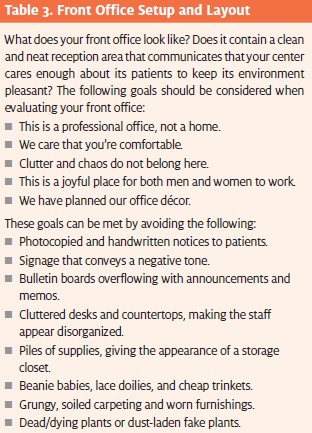 Bringing It All Together
As mentioned earlier, the front office sets the tone for the patient's experience with the urgent care center. To make sure the experience is a patient centered one, it's necessary to assure the right people, processes, and environment are in place for excellent service. A top notch front office will not only impress upon patients that the urgent care center is a well-run medical practice, but it's the key to generating positive word of mouth and bottom-line growth.
If you want to sharpen the appearance of your front office, walk into the lobby of an upscale hotel or financial institution and look at its walls, counters, and desks. What impressions do you get? Your urgent care visits are giving an impression, too make sure it's a positive one.
The Front Office: Window to Your Practice