Published on
The effects of the COVID-19 pandemic on healthcare systems around the world has been unprecedented, at least in our lifetimes. The cost in lives and dollars, pounds, euros, yuan, is incalculable at this point, as the pandemic continues. What we can get our arms around, however, is how visits to urgent care centers have been changing as a result.
According to the FH Healthcare Indicators and FH Medical Price Index 2022 report from FAIR Health (which reflects final data on claim line distribution collected for 2020), acute
respiratory diseases and infections continued to be the most frequently cited complaint. In fact, 2020 was not all that dissimilar from 2019 except for the rise of exposure to communicable diseases—which was the second most common diagnostic category after not even being in the top 10 in the 2019 data. Not surprisingly, the report attributes that meteoric rise to testing and/or treatment associated with COVID-19.
For a deeper look, check out the graph below. Does it jibe with your experience locally?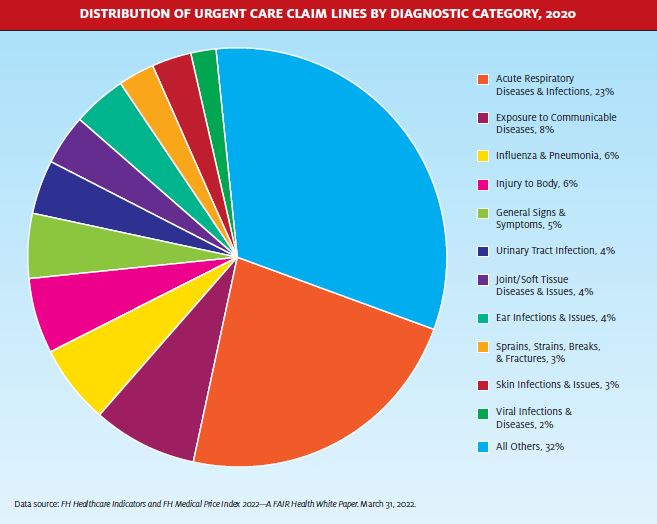 Spoiler Alert: 2020 Saw a New Trent in Urgent Care Data Claims