These data from the 2010 Urgent Care Benchmarking Survey are based on responses of 1,691 US urgent care centers; 32% were UCAOA members. The survey was limited to "full-fledged urgent care centers" accepting walk-ins during all hours of operation; having a licensed provider and x-ray and lab equipment onsite; the ability to administer IV fluids and perform minor procedures; and having minimal business hours of seven days per week, four hours per day.
In this issue: What were your net revenue and total expenses for the fiscal year?
The 2008 survey reported "Average total revenue for most recently completed fiscal year" at $1,448,058. The 2010 survey looked at both Revenue and Expenses.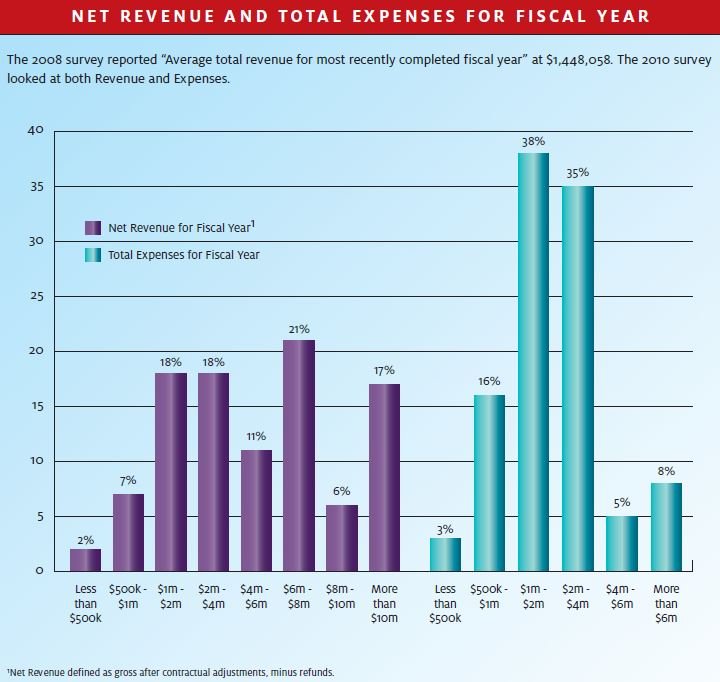 Net Revenue defined as gross after contractual adjustments, minus refunds.
Acknowledgement: The 2010 Urgent Care Benchmarking Study was funded by the Urgent Care Association of America and administered by Professional Research Associates, based in Omaha, NE. The full 40-page report can be purchased at www.ucaoa.org/benchmarking.
Developing Data: July/August, 2012