Differential Diagnosis
Urticaria pigmentosa
Bullous impetigo
Atopic dermatitis
Psoriasis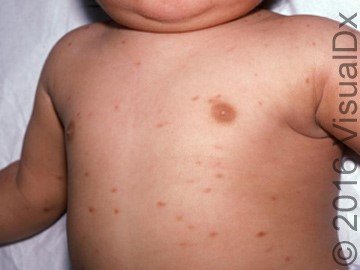 Diagnosis
This patient was diagnosed with urticaria pigmentosa, a form of cutaneous mastocytosis in which mast cells accumulate in the skin, causing the characteristic skin lesions seen here.
Learnings
Urticaria pigmentosa presents within the first week-to-months of life, though involution can occur in early childhood or last until puberty
Bronchospasm, as well as flushing, diarrhea, and syncope can all occur
Unlike adult forms of mastocytosis, there is rarely internal organ involvement in children
Pearls for Urgent Care Management and Considerations for Transfer
There is no "cure," per se, for urticaria pigmentosa, though antihistamines can relieve itching and flushing. Other treatments include:

Topical corticosteroids
Hydrocolloid dressings
Fluocinolone acetenoide

Parents of younger children should try to discourage scratching or rubbing of itchy skin, as doing so could spur a stronger reaction
Acknowledgment: Images courtesy of VisualDx.
An 18-Month-Old with an Itchy Rash and Wheezing