Differential Diagnosis
Avulsion fracture of the ischial tuberosity
Hamstring syndrome
Proximal hamstring tendinopathy
Pubic apophysitis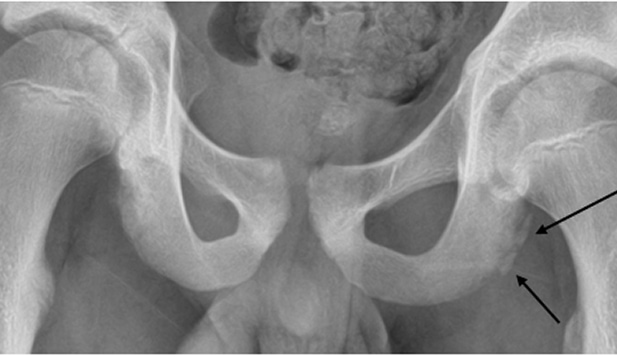 Diagnosis
This patient has an avulsion fracture of the ischial tuberosity, seen as displacement of the apophysis.
Learnings/What to Look for
This injury is seen most commonly seen in young athletes, especially soccer players. It results from sudden, forceful contraction of the hamstrings
Patients in puberty and late adolescence are at greatest risk, as this is a time when the secondary ossification centre or apophysis is weakest in the chain of muscle–tendon–bone
Pearls for Urgent Care Management and Considerations for Transfer
Radiograph of the pelvis should be performed in adolescent patients with a history of proximal hamstring injury and current ischial tenderness
Displaced avulsion fragments or chronic nonunion fragments may require surgical repair.
Acknowledgment: Image courtesy of Teleradiology Specialists.
An 11-Year-Old Boy with Groin Pain After Playing Soccer