The Resolution
 Differential Diagnosis
Acute avulsion fracture of the radial tuberosity
Bicipitoradial tendinitis/bursitis
Partial biceps tear
Tear at the myotendinous junction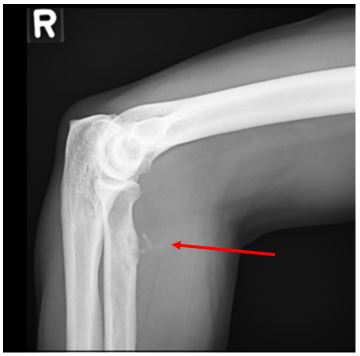 Diagnosis
The x-ray reveals multiple chip avulsion fractures anterior to the radial tuberosity and a flattened radial tuberosity. The patient experienced an acute biceps tendon tear at the insertion site on the radial tuberosity, with avulsion fracture of the radial tuberosity.
Learnings/What to Look for
Radial tuberosity is a localized bony protrusion below the radial neck. It is a major elbow flexor and forearm supinator
Biceps tendon avulsion tears occur when excessive tension/force is applied when the arm is extended from a flexed position to the extended position. Tears usually occur at the insertion site on the radial tuberosity
Clinical history is that of a painful pop, localized pain on supination, and weakness
Clinical findings are palpable defect in the biceps tendon region, retracted belly of biceps, and loss of flexion and supination strength
Radiographic findings include avulsion fracture of the radial tuberosity. Diagnosis may be confirmed on MRI study, which reveals a completely torn and retracted biceps tendon from its insertion and attached bone fragment
Contributory factors include male gender, smoking, use of anabolic steroids, and chronic impingement between the bones
 Pearls for Urgent Care Management and Considerations for Transfer
Treatment in older, sedentary, low-demand patients is usually conservative, with immobilization, analgesia, and later physical therapy. This results in diminished strength in sustained supination, flexion, and the grip strength
In healthy young patients, surgical repair is indicated with re-implantation of the biceps tendon on the radial tuberosity
 Acknowledgment: Images and case provided by Teleradiology Specialists, www.teleradiologyspecialists.com.
A 59-Year-Old Man with a Painful Elbow After a Fall