Differential Diagnosis
Acute Stieda fracture
Femoral fracture
Reactive arthritis
Tendinous calcification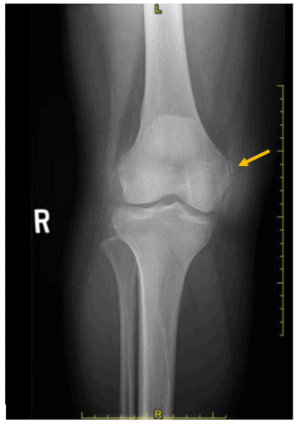 Diagnosis
This patient was diagnosed with an acute Stieda fracture with Stieda-Pellegrini lesions. Stieda fracture is an acute chip avulsion fracture rising from the medial femoral condyle at the site of medial tibiofemoral collateral ligament insertion. The lesion most commonly affects adult patients and is associated with injury.
Learnings/What to Look for
Clinical findings are painful swelling of the medial knee and diminished range of motion
Radiographic findings include a chip fracture arising from the upper medial cortex of the medial femoral condyle at the level of medial tibiofemoral collateral ligament insertion and adjoining soft tissue swelling
MRI findings may include localized tear of medial collateral ligament insertion on the medial femoral condyle, hemorrhage, soft tissue edema, cortical fracture, and/or adjoining marrow edema
Pearls for Urgent Care Management and Consideration for Transfer
Initial treatment is conservative including immobilization and anti-inflammatory and analgesic medications
Subsequent management includes physical therapy
Cases with persistent symptoms, weakness, and dysfunction of medial collateral ligament may require surgical intervention for repair of the ligament
Untreated cases may have chronic pain and dysfunction of the medial collateral ligament. Untreated cases also may reveal a Pellegrini-Stieda calcification on the medial surface of the upper medial femoral condyle
Acknowledgement: Images and case provided by Teleradiology Specialists, www.teleradiologyspecialists.com.
A 53-Year-Old Female with Painful, Swollen Medial Knee a Fall