The Resolution
Differential Diagnosis
Systemic lupus erythematosus
Polymorphous light eruption
Allergic contact dermatitis
Dermatomyositis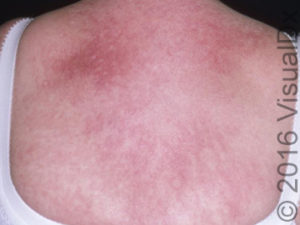 Diagnosis
This patient was diagnosed with dermatomyositis, a multisystem autoimmune connective tissue disease characterized most often by a symmetrical proximal extensor inflammatory myopathy; a characteristic violaceous cutaneous eruption; and pathogenic circulating antibodies.
Diagnosis is made through blood tests showing elevated levels of muscle enzymes. Further testing includes lung x-rays; electromyography; MRI; and skin or muscle biopsy.
Learnings/What to Look for
While the etiology is unclear, some evidence suggests that genetically susceptible individuals with certain HLA types mount aberrant cellular and humoral responses after exposure to infection, malignancy, or drug ingestion
Clinical features of dermatomyositis can be categorized into cutaneous and systemic manifestations
Typical findings include a heliotrope rash, atrophic dermal papules of dermatomyositis (ADPDM, also known previously as Gottron's papules), shawl sign, holster sign, photosensitivity, flagellate erythema, poikiloderma, calcinosis cutis and nail fold changes. Pruritus is also common
Systemic manifestations of dermatomyositis include fatigue, malaise, and myalgias, as well as various musculoskeletal, gastrointestinal, pulmonary, and cardiological complaints
Up to 40% of patients with adult dermatomyositis may have an occult malignancy
Pearls for Urgent Care Management and Transfer
Treatment of dermatomyositis includes corticosteroids for the muscular component and avoiding exposure to the sun
Immunomodulatory medications such as methotrexate, mycophenolate mofetil, or intravenous immunoglobulin may be used
Refer to a rheumatologist
Acknowledgment: Images and case courtesy of VisualDx (www.VisualDx.com/JUCM).
A 51-Year-Old Woman with Multiple Dermatological Symptoms and Muscle Weakness