Differential Diagnosis
Livedo reticularis
Cholesterol emboli
Erythema ab igne
Systemic lupus erythematosus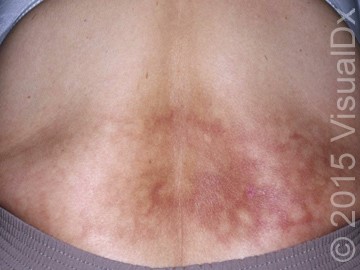 Diagnosis
This patient was diagnosed with erythema ab igne (literally, in Latin, redness from fire), a hyperpigmentation disorder caused by long-term exposure to heat. The most common sources include hot water bottles, electric blankets, and even laptop computers.
Learnings
Although actual burns do not occur from the heat source in erythema ab igne, the skin develops a course pigmentation that appears as patches that are pink, purple, and eventually brown
Pruritus or mild burning paresthesias may occur
Resultant pigmentation changes can be permanent; there is no effective treatment
Pearls for Urgent Care Management and Considerations for Transfer
Caution the patient to avoid prolonged exposure to the heat source
Follow-up with a dermatologist is warranted to establish a new "baseline" against which future changes in pigmentation can be measured, in the interest of vigilance for cutaneous malignancies
Acknowledgment: Images courtesy of VisualDx.
A 45-Year-Old Woman with Suddenly Discolored Skin