Published on
Differential Diagnoses
Distal radius fracture
Extensor carpi ulnaris subluxation
Lunatotriquetral ligament injury
Triquetral Avulsion Fracture
Ulnar extrinsic ligament tear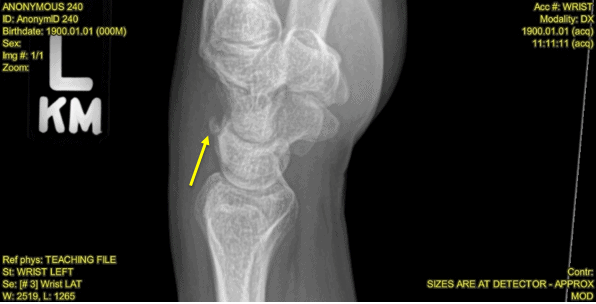 Figure 2.
Diagnosis
The image shows that the patient suffered a triquetral avulsion fracture. This is the second-most common fracture involving the carpal bone (the scaphoid being the most common).
Learnings/What to Look for
Mechanism for triquetral avulsion fracture is often a fall onto an outstretched hand in ulnar deviation
This fracture can be subtle and is usually visible only on the lateral view
Typically, this is seen as an avulsed flake of bone, identified lying posteriorly to the triquetral bone in the dorsal mid-wrist
Pearls for Urgent Care Management and Considerations for Transfer
The wrist should be placed in a cast, either in the urgent care center or by an orthopedic specialist, for approximately 6 weeks
Rarely, surgical intervention may be necessary. A persistently symptomatic chip fracture may require excision
Posttreatment, the patient should receive physical therapy
Acknowledgment: Images courtesy of Teleradiology Specialists.
A 41-Year-Old Woman with Wrist Pain After Falling