Differential Diagnosis
Lymphoma
Myeloma
Pyogenic meningitis
Ranke complex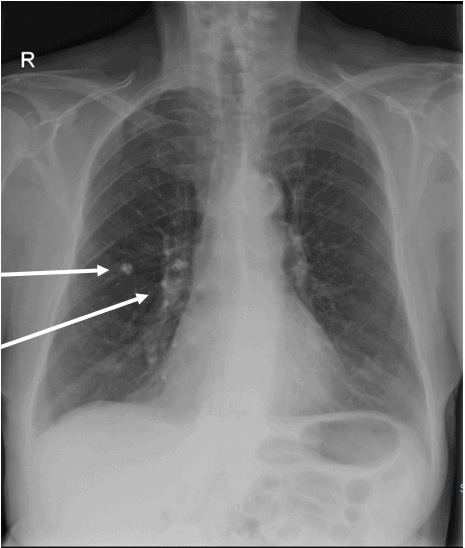 Diagnosis
This patient was diagnosed with Ranke complex from healed and calcified primary tuberculosis lesions. This was an incidental finding.
Learnings/What to Look for
The x-ray shows a 9 cm right upper lobe anterior segment peripheral calcified granuloma and multiple right hilar calcified lymph nodes
Primary tuberculosis consists of a primary inflammatory granulomatous peripheral and often subpleural lesion in periphery of lower part of upper lobes or upper part of lower lobes. Caseation necrosis usually follows with drainage of Mycobacterium tuberculosis to the regional hilar lymph nodes and systemic dissemination
Primary granuloma and secondary hilar lymph nodes are collectively called Ghon's complex. In 95% of cases the disease is contained by the body immunity with subsequent healing, fibrosis, and calcification of primary granuloma and the secondary infected lymph nodes
The healed calcified Ghon's complex is called Ranke complex
Pearls for Urgent Care Management and Considerations for Transfer
Significance of the Ranke complex is from retained viable Mycobacterium tuberculosis bacteria in this calcified complex, which at times becomes a source of secondary active pulmonary tuberculosis
Acknowledgment: Image and case provided by Experity Teleradiology (www.experityhealth.com/teleradiology).
A 28-Year-Old Male with a Persistent Dry Cough