Differential Diagnoses
Distal radius fracture
Scaphoid fracture
Tendinitis
Lunate dislocation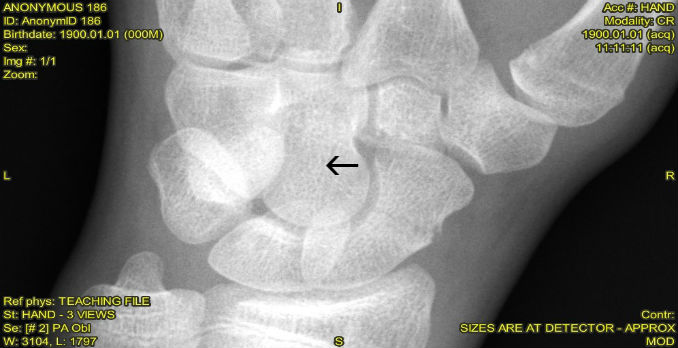 Figure 2. 
Diagnosis
This patient suffered a scaphoid fracture—one of the most common injuries associated with a fall on outstretched hands (FOOSH).
Learnings/What to Look for
Scaphoid fractures are the most common carpal bone fracture. They occur most often in adolescents and young adults
The fracture location is most often through the waist
Examine the anatomical snuff box and if there is pain, consider a scaphoid fracture
These injuries may be subtle or occult. If there is strong clinical suspicion after a negative XR, consider MRI.
Pearls for Urgent Care Management and Considerations for Transfer
Imaging should include multiple views, including lateral, PA, oblique, and ulnar deviation
Suspicion of scaphoid fracture should be treated as a confirmed fracture until proven otherwise
The patient should be placed into a thumb spica splint before discharge
Follow up should be in 5-7 days with repeat imaging if subjective or objective pain persists
Acknowledgment: Images courtesy of Teleradiology Specialists.
A 15-Year-Old Boy with Wrist Pain After a Fall