Differential Diagnoses
Fracture, anterior process of calcaneus
Lateral ankle sprain
Lateral talar process fracture
Os calcaneus secundarius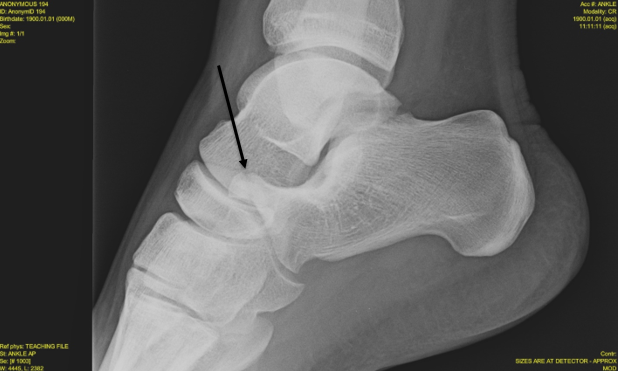 Figure 2.
Diagnosis
This patient experienced a fracture of the anterior process of calcaneus.
Learnings/What to Look for
Anterior calcaneal process fractures are the result of an inversion and plantarflexion injury. This represents an avulsion fracture of the bifurcate ligament
Accessory ossicle (os calcaneus secundarius) can be difficult to distinguish from an anterior process fracture
Anterior calcaneal process fractures can be missed using plain radiography. Point tenderness over the calcaneal cuboid joint may aid in diagnosis
Undiagnosed fractures can result in nonunion
Pearls for Urgent Care Management and Considerations for Transfer
Small, nondisplaced fractures can be managed with nonweight bearing with or without a short leg case for 4–6 weeks

Patients can be treated on site or referred immediately for orthopedic care, with follow-up in either setting according to the provider's expertise and available resources

Patients with large or displaced fractures may require operative treatment and should be transferred to an emergency room
Acknowledgment: Images courtesy of Teleradiology Specialists.
A 32-Year-Old Woman with Ankle Pain After a Fall