Published on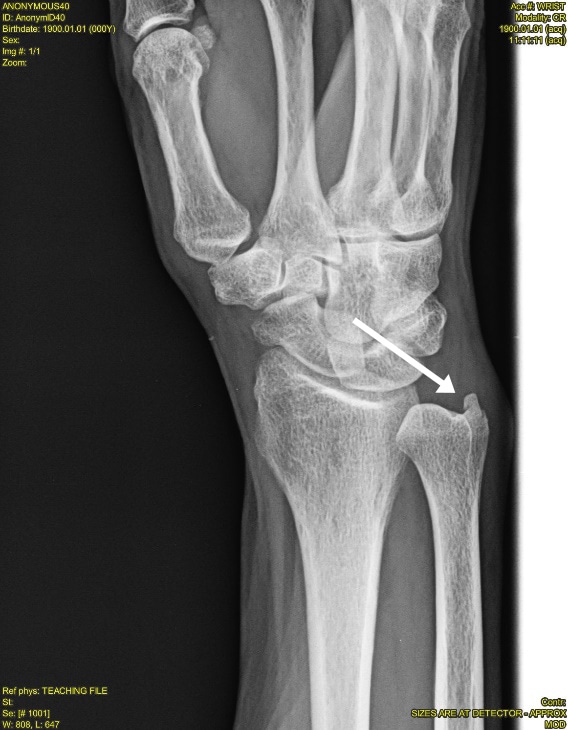 Differential Diagnosis
Distal radius fracture
Ulnar styloid fracture
Scaphoid fracture
Carpal-metacarpal dislocation
Osteomyelitis distal radius
Diagnosis
The x-ray reveals a fracture of the ulnar styloid, as evidenced by a break in the cortex, displacement of the fracture fragment, and a loss of alignment of the trabeculations.
Learnings/What to Look For
Approximately 50% of distal radial fractures will have associated ulnar styloid fracture.
Ulnar styloid fractures can also occur as isolated injuries, as in this case.
Most fractures are small avulsions at the tip, though occasionally involving the body or base of the styloid.
Fractures through the base of the styloid can lead to instability of the distal radioulnar joint and injury to the triangular fibrocartilage complex.
Accessory ossicles can appear similar to styloid avulsions.
Pearls for Initial Management and Considerations for Transfer
With evidence of an isolated ulnar styloid fracture, search for a distal radius fracture or a carpal fracture or dislocation.
If the neurovascular status is intact, the patient may be placed in an ulnar gutter or volar splint with recommendations.
Indications for transfer include intractable pain, consideration of vascular injury, compartment syndrome, or associated displaced fracture or dislocation.
Acknowledgment: Image courtesy of Teleradiology Specialists.
A 51-Year-Old Man with Wrist Pain After a Fall