Published on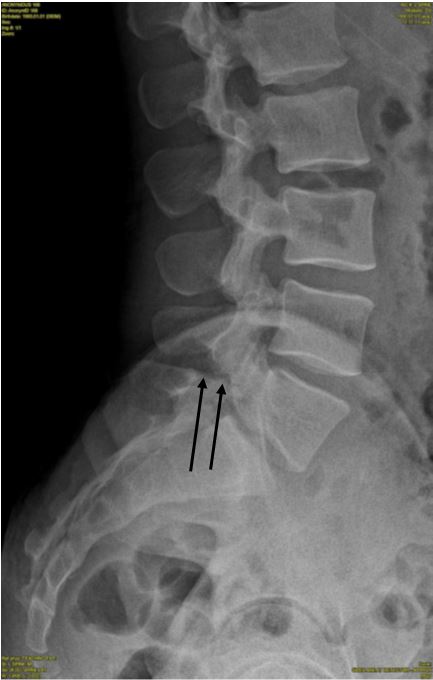 Differential Diagnoses
Mechanical low back pain
Osteoid osteoma
Osteomyelitis
Spondylolisthesis
Spondylolysis
Diagnosis
There is lucency through the pars interarticularis portion of the L5 vertebra on the lateral view. The correct diagnosis is spondylolysis, also referred to as a "pars" fracture.
Learnings/What to Look for
Spondylolysis is a defect in the pars interarticularis of the neural arch, the portion of the neural arch that connects the superior and inferior articular facets. Often, this can lead to spondylolisthesis at the affected level
Oblique views are often necessary in order to diagnose via x-ray examination
Approximately 25% of individuals with spondylolysis have symptoms at some time. It is a common cause of low back pain in adolescents and, in particular, athletes
Pearls for Urgent Care Management and Considerations for Transfer
Bracing for immobilization, accompanied by anti-inflammatory medications or non–opioid pain medication, is appropriate for initial management
Often, pars fractures heal with rest and, once symptoms have subsided, physical therapy. Recommend that he abstain from sports until he is pain-free, and that he return to urgent care for follow-up or consult an orthopedist at that time
Acknowledgment: Image courtesy of Teleradiology Specialists.
An 18-Year-Old Male with Chronic Back Pain